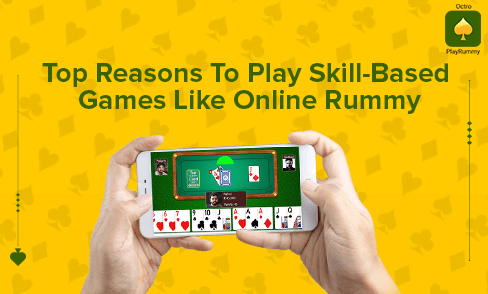 Do you have an analytical bent of mind? Do you like games which involve strategy and skill and those that you can play on the go, then you are likely to like skill-based games like online rummy. Read this piece to know the top most reasons how playing rummy online can be of use to you.
A card game like rummy has been there since ages. Chances are that you must have played it. Even if you haven't played it, you must have seen people around you play it or would have heard about it. It's a really popular leisure option which helps us bond with others. Now with technology in the form of smartphones and internet the game of rummy has become even more popular amongst all age groups. With technology the game can now be played anytime, anywhere according to your convenience. Not only the old timers who played rummy offline but even the young generation have taken a special liking to the online rummy card game in the past few years. Below are some reasons why should also play rummy online.
Rummy Game is Easy To Learn
Online rummy is a simple game whose rules can be learned quickly. It's very easy to understand the objective of all rummy variants which is all about forming sequences and sets with cards that are dealt to you. When you play rummy online you will get multiple sources to learn these rules as these are available in the form of video tutorials, articles and by playing free games that don't involve any stake. The fact that many of us have played rummy offline makes the transition from offline to online even smoother.
Play Rummy Anytime, Anywhere
If you play online rummy you don't have to fret over planning or scheduling the online rummy games. No need to hunt for competitors who would be passionate, interested and knowledgeable about the game. You don't even have to travel to a particular venue to play. Play rummy anytime and anywhere as per your convenience. Playing online rummy is a hassle-free process. When you play rummy on PlayRummy, there will be many players playing simultaneously. So, you no longer need to wait to call or invite people to play with you. All you need is a phone, tablet or desktop and internet and you are good to go. Be it while travelling or being home or being stuck in traffic while sitting in a cab now time and location doesn't matter when it comes to playing rummy.
Variety of Rummy Game Modes
Gamers enjoy gaming when there are enough players to play with and those who know the game. Various game modes appeal to them because that means now they can show their skill in different aspects of the game. In online rummy games a player can try various game modes at the tap of a button – be it points rummy or deals rummy or pool rummy. All the player has to do is choose the game mode and begin playing.
Beginners Rummy Player Welcome
If you haven't ever played rummy, want to but are still apprehensive about your choice. Let's tell you that there are many benefits for a first timer thinking about playing rummy. Many online rummy platforms give beginners a welcome or joining bonus which is a great way to start playing on someone else's expense. After you have downloaded the rummy app you don't need to directly play the players who are better than you. You can take your time learning the rummy tricks of the trade by watching tutorial videos, going through various beginners rummy tutorial and watching others play. You can begin playing on tables with low stakes and gradually move to playing on bigger tables.
Boosts Analytical Thinking
Online rummy games are not only great leisure options but also encourage analytical thinking. The more a player plays the more their analytical skills improve with regards to evaluating the cards in hand, predicting opponents moves and so on. Players learn the skill to analyse various game situations and take correct decisions under pressure. Learning these skills can help you to either win the game or reduce the points in case someone else wins.
Reduces Stress and Promotes Social Distancing
While the vaccines are here but the Covid-19 cases continue to rise in the country. The pandemic has certainly made our life more stressful. With options like online rummy games not only has our life become less stressful but it also promotes social distancing. Now we can enjoy playing rummy with people in different parts of the world by sitting inside our homes.
Conclusion
Technology has made rummy even more popular. Different people have different reasons to start playing the online rummy, you can find yours and enjoy the game.