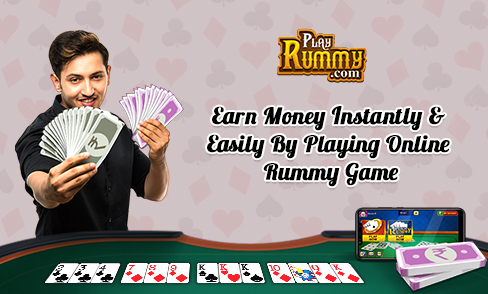 Ever Since the COVID-19 pandemic has spread all over the world most people's finances have taken a hit. Be it the businessmen or the salaried class; all have borne the brunt of the corona virus. Some people have lost their jobs, while many others have taken salary cuts in order to be retained by their organisations but let's talk about one silver lining in this big dark cloud which is that the gaming industry hasn't done too badly in these times. In fact many people who like to play online games like rummy have earned a lot even during these hard times.
If you are a rummy lover and play rummy online all you need to do is download a rummy game app like PlayRummy and get on the bandwagon of this best earning app to improve your finances instantly and easily.
Now, the first question that can come to anyone's mind is why PlayRummy is the best earning app to play rummy online and earn money instantly. So, here are some of the reasons.
Amazing Rewards: Online rummy players' biggest thrill is when they win money in a game but that can be ruined if the rewards are small. At PlayRummy that is taken care of the moment they sign up. On signing up the player gets a hundred percent cash match bonus along with instant cash. This way they get a minimum of Rs 75 as bonus fee. This is not all there are various other offers as well that a player can avail when they play online rummy on PlayRummy. Many players are daily winning huge rewards that has certainly improved their financial position by leaps and bounds even during this pandemic.
Lowest Processing Fee: There is another reason why PlayRummy has to be the best platform to play rummy when compared to some of the other similar platforms. PlayRummy charges the lowest processing fee from its players. This means that the players on this platform can win more real money and play more with the lowest rake deduction in the entire industry. This also means that it is the players who benefit the most when they opt for PlayRummy to enjoy the thrill of winning cash. When it's a low rake, it ensures that it is the players who enjoy a bigger cut in their rewards.
Legal & Secure: How does a real money gaming app become the best one to earn money instantly? That can only happen if the platform is both legal and secure like PlayRummy. The platform is accredited by the TRF which means it follows all the recommended procedures for a real money gaming platform to operate. When it comes to being a secure one it ensures that every player needs to complete the KYC formalities to ensure fast and safe money transfers to their account so that they can enjoy the fruits of their labour. Some of the other steps that make PlayRummy a very secure platform are its password protection policy, email policy and phone number policy. These strict measures are in place so that a player's password is never compromised, similar is the case with issuing regular email alerts and sending prompt account related SMS, transaction SMS and OTPs on phone.
Fair Play: The point is interconnected to the one about PlayRummy being a legal and secure platform. Irrespective of the platform and how secure there are always elements that can harm a good reputation by trying to take unfair advantage. These aspects make every online gaming platform vulnerable to various acts of frauds. PlayRummy has adopted a zero tolerance approach towards such acts. Let's explain this by how the platform operates: if a PlayRummy user registers a complaint with the platform about any fraudulent or suspicious activity, the team ensures that the matter is looked into promptly. The next step is to conduct a fair investigation. After the investigation is complete and if it is concluded that a fraud was committed it leads to strict action against the guilty. Not only this, PlayRummy also ensures that the player or players who suffer because of this get support. PlayRummy in order to prevent unfair play operates on a random card generator system which means that the shuffling of cards is automated so chances of cheating are next to none.
It also makes sure that the seating of every player on any table is random making it a full-proof arrangement that the table is not controlled by any one particular player. The app is also well-equipped with various other fair play plug-ins that monitor every player and ensure the game play is played in a clean manner.
With all these measures and checks well in place it makes PlayRummy the best earning app for online rummy players to play their favorite game.