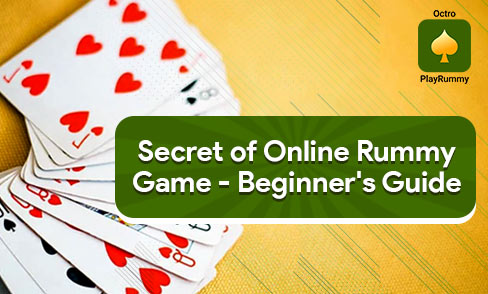 No matter what we do, there is always a first time. It is only after consistently doing that work for a considerable period of time a person becomes better at that work. Playing the rummy game is no different.
When a person begins playing the rummy game, they are called beginners who have stepped into the rummy world where sky's the limit if you can master your skill. Most beginners are nervous starters and understandably so. Learning how to play rummy properly takes properly, takes time and consistent effort. There are certain things that these beginners need to understand before beginning their playing journey because if your online rummy game involves real cash it is recommended that you know these secrets of the online rummy game.
Know The Basic Rummy Rules:
Knowing the rules in any online rummy game are very important. The way to learn them is after downloading the best rummy app on your phone to do a detailed study of the game and how it's played. Visit the gaming platform's website, go through the rules and all the rummy FAQs (Frequently Asked Questions) thoroughly, watch related videos on YouTube and make notes of the rules you didn't understand. Get in touch with the support team of that rummy game. After a beginner makes all these efforts, they will be more confident of going ahead and playing the game.
Go Through Rummy Video Tutorials:
When you play online rummy games like PlayRummy, there are always video tutorials that help a beginner understand the nitty-gritties of the game. Watch these rummy video tutorials thoroughly, not once or twice but till the time you become aware of every possible scenario that you could face playing the game. Watching these tutorials can guide you on how to play rummy. Anyway watching the tutorials multiple times won't cost you a penny but just a few minutes of your time. By watching tutorials, you will become familiar with the terms used in the game and also some new moves which you can show when you play.
Practice With Free Rummy Game:
Like most things in life the more you train your brain playing online rummy the better it becomes at it. Before playing rummy online, beginners should get themselves acquainted with the game by sweating it out on the practice tables and playing the game which is available for free. Practice hard and try to learn all aspects of the game before entering the real money tables because players don't get a second chance to make mistakes there.
Watch Others Game:
For beginners playing a real money rummy game can be hard beginning so, before playing the game with real cash, they should ensure that they have watched a lot of other players play the game. This will prepare the beginners to learn from the mistakes these players make. If a new player can watch others play, it gives them ideas to deal with various scenarios that they could face on the rummy table.
Start With Small Rummy Tables:
Don't just ever sit on an online rummy table for the first time and splurge. While it is said that – no risk, no reward – don't follow this advice in the beginning as chances of losing and facing a few setbacks are more because of the inexperience a beginner has. A big loss could shake a new player's confidence and deter them from playing the game again. So, always start with small tables. If you lose, it can be recovered easily and a win might not give you lots of money but it will certainly provide a boost to your belief.
Never Chase Losses:
Playing online rummy should come with self-imposed limits. A novice should never ever go overboard and play more than their risk handling ability and capacity. If you have lost cash, don't just play to recover it. Chasing your losses is a poor rummy strategy. The perfect approach in such a scenario is to take a break, analyse your game, reassess your strategies and only play again when the player is in the right frame of mind. On the Octro PlayRummy platform however, we have a cap on how much money a player can play the rummy game with reducing the risk factor a beginner might face. This is our way of promoting responsible gaming.
Stay Patient:
Beginners will discover that there are certain online rummy games that can finish early and others especially, those played with bigger stakes could take a lot of time. What needs to be remembered at all times is that they should never play if they are running short of time. Every move made on the rummy table counts and those made in haste could prove costly. Hence, they should always be patient in their approach.
Now that we have shared the secrets of online rummy and if you are a beginner reading these, get on the best rummy app and play.