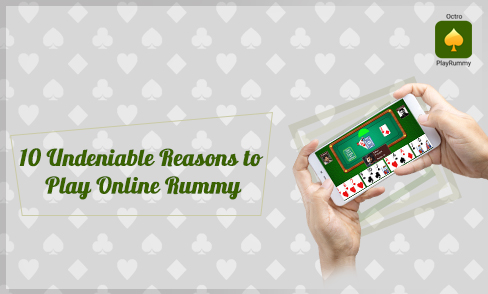 When you love something and are really passionate about it then there are many reasons to pursue it. For instance, let's talk about some such undeniable reasons to play online rummy. Online rummy is like off-line rummy the only difference being that it is played on a mobile rummy app, computer or laptop. So, if you haven't ever played online rummy on a rummy app and want to do so let us convince you that it is much more fun and rewarding than offline rummy. Here are reasons you need to play online rummy to experience a whole new thrill.
Play Anytime & Anywhere: The biggest reason to play rummy online on a rummy app is that you don't have to fret over planning or scheduling the online rummy games. No need to look for other players like you do in the case of off-line rummy. You don't have to travel to a particular venue to play just tap open India's most trusted rummy app and start playing. It is a hassle-free process when you play rummy online as there will be many players on the platform all round the clock.
Great Offers & Rewards: Another reason to play online rummy is for the amazing rewards and offers that a gaming platform like PlayRummy have. From daily prizes to festive bonanzas there is always a reason to win big here.
Beginner's Benefits: If you haven't played rummy online a great reason to do that right now is because online rummy app also give beginners joining bonus also called a welcome bonus. This is something players won't find in offline rummy.
Fights Boredom: After a point all of us get bored, especially, after the spread of the Covid-19 pandemic our sources of recreation have become limited. So, how does one fight this boredom sitting inside the four walls of the house? Simple, just play rummy online and this highly engaging game will help to beat the boredom.
Reduces Stress: A good rummy game online will help you relax in today's world when there is so much mental stress because of our busy and unhealthy lifestyle. An online rummy game can divert a person's attention from all the negativity around and help him just enjoy the game. It keeps people but busy bin a positive way.
Promotes Social Distancing: Since the Covid-19 pandemic spread going out of your house for leisure activities is extremely risky these days. By playing online rummy you can have fun, win rewards while still maintaining social distancing by staying inside your homes. The game is so good that it keeps you occupied thereby reducing your chances of going out looking for an alternate source of entertainment.
Fast Gameplay with Automation: An online rummy app like PlayRummy has a really smooth game interface which enables fast gameplay. Steps like distribution of cards are automated, and it takes seconds to get the ball rolling which makes it a must play for all rummy lovers. Not only this, the app is regularly updated, the bugs if any are constantly fixed to give you an unforgettable gaming experience.
Promotes Fair Play: Often while playing rummy offline, players feel that dealers don't shuffle cards properly, there are complaints about their points not being counted properly or they weren't paid correctly. This, however, is not the case when you play online rummy. There are strict guidelines against cheating in the game. Such measures work smoothly because everything is automated adding another undeniable reason to play the game on a rummy app rather than playing it offline exposing yourself to unfair gameplay.
Timely Payments: If as a rummy player you have won an offline rummy game but was promised the reward for a later date, it would have surely frustrated you. Such things don't happen when you play rummy online. The payment processing time for the money to be withdrawn is fast and smooth. A few clicks and some basic details are required for a winner to get the winning sum directly in their bank account.
Fraud Prevention & Support: When you play online rummy and report a fraud it is managed much more efficiently by the fraud management teams of the online rummy platform than if you have a similar situation in an off-line rummy game. Online rummy gaming platforms have their fraud management teams which ensure that chances of fraud during a game are not there. If that still happens and you become a victim of that then there is a full-fledged customer support team for help. They resolve the issue making sure that the aggrieved party is duly compensated and the fraudsters are removed from the platform.
Now that you know all these reasons to play rummy online, pick up your smartphone, download the rummy app and let the fun begin.