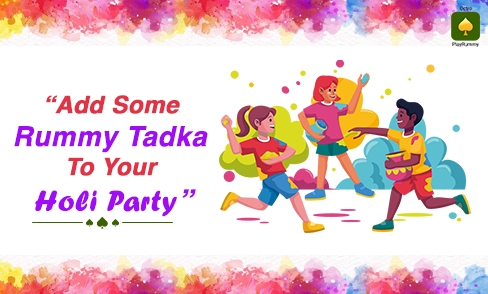 The festival of Holi is just round the corner, but unlike other years, this year is a little different because of the Covid-19 pandemic. While the vaccine is here but so are the new mutants of the virus. Hence it is advisable to not go at places with large gatherings, which will increase the risk of you getting infected. Hey! But we aren't stopping you from enjoying the festival of colours. We are just suggesting a new way to enjoy it. Rest assured after you are done reading this piece you would have got a fantastic idea as to how to have an amazing Holi even this year.
We suggest that you host a Holi party and play a card game line rummy with your friends and family. No, we aren't saying you do this breaking the norms of social distancing. Our idea is that you play Holi in the safe confines of your home and while doing so play rummy online with your near and dear ones.
For Holi you all know the things you need like colours, sweets, some good music but to play rummy online here is what you need: just download rummy game on your phone, login and start playing.
Before you think that we are done, let's tell you that the beauty is in the detail so below is our step-by-step plan for you to have a fantastic Holi party playing card games like online rummy.
Holi Party with spectacular card games with a desi touch for your family! Read this article for tips and tricks on how to throw your best party yet!
Invitation
Inform your friends and family that you would be hosting a Holi party but virtually. Now, write a sweet message for all of them to join and share it through social media or any other messaging app that you use.
Stuff You Need
Apart from all the usual Holi stuff you will require a smartphone on which you would have to download a rummy game from PlayRummy.com, which is India's most trusted rummy app.
Share The Details
Inform the people you want to invite to this virtual Holi party to do the same so that at the eleventh hour there isn't any confusion about the stuff they need for this party to be a rocking one.
Prepare Well
We aren't talking about the preparation with regards to Holi, because we know that over the years you have really aced that game. Here, we want you to prepare well with regards to learning how to play rummy. It's great if you already know the game, but watching a few tutorial videos and reading a little more about online rummy will go a long way in helping you establish your supremacy in front of your family and friends when the big arrives. In fact we suggest you play some games on a smaller stake table so that you are aware how the game works.
Also, don't be selfish, tell these steps to those whom you have invited. After all, playing rummy is more fun when there is competition and others also match your skill level.
Double Check On D-Day
Send another message to all those you want to invite on the Holi morning, reconfirm their acceptance to your invite and the time the game would be played. Also, make sure they have downloaded the correct rummy app and have gone through the rules. Decide the rummy variant all you would be playing so that at the last minute no one has any confusion about it.
Arrange The Stuff For Holi
Now on the day of the festival make sure you are dressed for the occasion, have your colours, sweets, good music and your phone all charged. Play Holi in the safe confines of your house and after you are done doing that join the rummy table along with all those whom you wanted to have this party by adding perfect rummy tadka to an already fun day. If you all have a spare smartphone, laptop or tablet, you could also join a video call to share the fun through those screens and even record it to watch later.
Show Your Skill
What will make this Holi party even more fun is if the result of the online rummy game goes in your favour. To ensure that this happens you need to be at your best while displaying your rummy skills. Carefully watch all the moves that your opponents make, apply your strategies to counter them and hope that the best player wins it.
Now, you know the steps to hosting the perfect Holi party. It's time to prepare the invite and share it. Have a happy & safe Holi playing rummy.