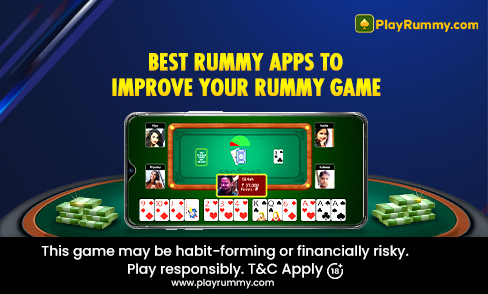 When it comes to playing rummy online, there are a few rummy apps that can really help to improve your rummy game. These rummy apps have also helped in promoting the rummy culture in the country and are loved by many. Game makers have taken the traditional rummy games and with the help of technology made those better and accessible for people who want to improve their game by playing rummy anytime and anywhere on their smartphones and other devices.
Playing rummy online in recent years has become a really popular option and it accounted for 335 million U.S. dollars in India's online gaming market in 2019. It is estimated to reach 1.4 billion dollars by 2024, attributed to the increasing penetration of smartphone usage in rural areas of the country. Another report states that rummy game makers have started shelling out 30% to 40% more money to acquire more users. Let's take a look at some of best rummy apps that can help you improve your game:
PlayRummy: On this app you can play rummy online and win real cash. The reason behind a lot of people loving this game is because the gameplay is super smooth, and it has great rummy tutorials even for beginners. To be better at rummy, people need to play on a rummy app that is safe and secure and PlayRummy.com is all that and more because its game interface works on the Random Number Generator (RNG) to determine cards dealt in the game. It is also a member of The Online Rummy Federation, which is an independent group established under the Societies Registration Act that ensures that there is responsible gaming. There are a lot of rummy modes in the app. Trying them can really make your good at different variations of rummy as well.
Rummy Culture : Another good option to play rummy online is on the Rummy Culture app. It is available for both laptop and smartphone interfaces. The rummy game that can be played on this platform is 13 cards rummy. The AI in this app is also very safe and secure to play the game anytime and anywhere.
Rummy Circle :The third rummy app in this list is Rummy Circle is also a real-money rummy game. It is owned by Play Games 24* 7 Pvt Ltd. This rummy game can be played for free where players can win real cash. It too has good rummy tutorial videos which can guide even the newbies to improve their rummy game.
Junglee Rummy : Another option to really be good at rummy is to play online rummy on the Junglee Rummy app. This platform also has various rummy modes and tournaments where people can use their rummy skills to win cash rewards. The game is owned by a company called Junglee Games in 2012.
Ace2Three : Like all the above mentioned rummy apps this too is a multiplayer gaming portal where you can play rummy online. Like the other rummy apps this one also has rummy modes where two to six players can play the game. Great tutorials with regular rummy tournaments here too can make you a master at this game.
Among all the five apps to play rummy online which we have mentioned in this blog, we recommend that you first download PlayRummy.com which is now available for free on the Play Store as well.