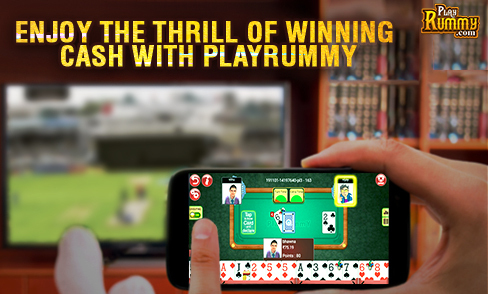 The people who play online rummy do it for various reasons. Some do it because they like card games, some because it helps them take a break, to some it is a stress buster but among all these reasons the biggest is because they enjoy the thrill of winning cash. While there are many online rummy platforms, PlayRummy believes it's the best. The platform gives its players the real thrill of winning cash on playing their game. All a player has to do is, download the PlayRummy app and the thrill will follow.
User Friendly App:
When it comes to playing online rummy the PlayRummy app has to be the most user friendly one that comprises all the necessary features to make our player's gaming journey a thrilling one. It is very easy to navigate on the app, especially the option about depositing money and withdrawing it after a player has won it. The platform has ensured that the friendly user interface and spectacular graphics will give them a fascinating experience so that they don't have to go to any other platform to quench their thirst to play online rummy. The app runs so smoothly that PlayRummy has no doubt that it is the fastest mobile rummy game app in the market. Now all that needs to be done by you is to download the rummy app and start playing.
Great Rewards:
For an online rummy player the biggest thrill they can get by playing the game is the rewards. PlayRummy as an online gaming platform has great rewards. Many people are daily winning huge rewards that have improved their financial position by leaps and bounds. Whatever we do in our life is mostly done for something in return. This 'something' could be tangible or intangible. For some people it could be just the satisfaction of doing a good job, for some it might be popularity, for rummy players it is the cash rewards that they can win if things go as planned.
Lowest Processing Fee:
The PlayRummy platform today charges the lowest processing fee from its players. This in a lay man's language means that our players can win more and play more with the lowest rake deduction in the entire industry. This means it is the players who benefit the most when they opt for PlayRummy to enjoy the thrill of winning cash.
Legal & Secure App:
If you know how to play rummy and already have or want to download the PlayRummy app, the platform assures you that it is completely legal and secure one to engage in some thrilling online rummy games. In terms of making it a secure platform, PlayRummy has made sure their password protection policy, email policy and phone number policy are really strong to avoid any kind of inconvenience to the user. There are strict measures in place that a user's password is never compromised, similar is the case with issuing regular email alerts and sending prompt account related sms, transactional sms and OTPs on phone.
Guaranteed Fair Play:
This point is interconnected to the one about PlayRummy being a legal and secure platform. Irrespective of the platform and how secure it is some bad apples would always be there who try to take advantage by unfair means. This leads to various acts of frauds that are regularly reported in the online reals cash gaming industry. We have a zero tolerance policy towards such bad apples. If any of PlayRummy users registers a complaint with the platform about any fraudulent activity, the team promptly looks into the matter and conducts a fair investigation. After the investigation is complete and in that if it found that a fraud was committed it leads to strict action against those found guilty. Not only this, we also ensures that the person who was at the receiving end of a fraud gets full support. These frauds could range from the shuffling of cards or ensuring that a player gets a particular table. On the Greatest Rummy app the seating is random ensuring that the game is table is not controlled by any one player and also the shuffling of cards is automated so chances of cheating are comparatively less. The app is well-equipped with fair play plug-ins that monitor every player and ensure the game play is clean.
Informative Tutorials:
PlayRummy is a platform where real money gaming is done and it provides easy, detailed yet self-explanatory tutorials even for the beginners. For anyone to believe this one has to download the rummy app and check themselves. That's not all, even after doing this if they face any issues to understand the game we have a full-fledged support team that will resolve their issues over email or phone call so that they have the best gaming experience and can win lots of cash.