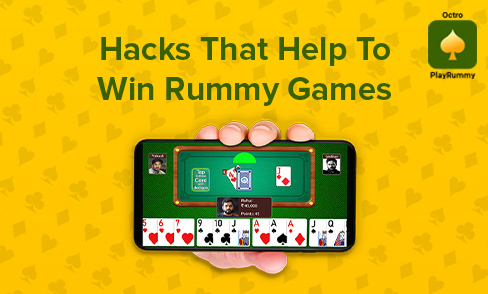 If you want to learn to play online rummy, there are certain basic hacks that you need to know that will help to perform well. There is no margin for error in rummy and in order to prevent that from happening an online rummy player has to know these hacks to win those. Before you download the rummy app and play here are some hacks that can make you better at the online rummy.
Card Arrangement: Never ever forget to arrange your cards properly, this helps you concentrate better on the game later and makes you focus on all the moves made in the game. This hack will help you to not be confused about which cards to pick and discard. One way to arrange your cards effectively is to alternate the colours.
Watch Other Players: The players you are playing with might be better than you at the game. Watch all their moves diligently. Observe which cards they discard and the ones they pick from the open pile. This will give you a good idea about their game and will also act as a guide about which card you should pick and discard in order to improve your probability of winning.
Use The Joker Card Carefully: One of the most important cards in the rummy game are Jokers and this is the reason why you need to make the best possible use of these if you have one in with you. A successful hack that usually works is that a rummy player should always use the joker to complete a run or set of higher points value. A player should not try to use the joker card in natural run.
Get Rid Of High Value Cards: A mistake many online rummy players usually make is that they wait for too long to discard cards with higher points. It is vital for your chances in the game to avoid doing that. This will ensure that if your opponent declares before you do, your loss points are reduced.
Retain Smart Cards: These are called smart cards because they can be easily converted into a run. For example, 7 of any suit can be put together with 5 and 6 of the same suit and can also work with 8 and 9 of the same suit. So, try to keep these cards if you have those. Waiting endlessly for one particular card to meld is never recommended.
Fishing: Good rummy players know this hack. A player should learn how to trick the opponents to discard the cards they need. An example of that would be that if you want to form a set of three 10s and you currently have a 10 of spade, a 10 of heart and a 9 of club then discard the 9 of club. Your opponent might consider the 10 of club is a safe card to discard thereby helping you to form your set. This is called fishing the opponent.