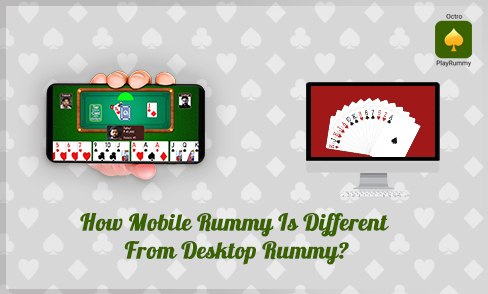 For past few years online rummy has become popular in India because of the internet speed improving drastically at least in the tier 1 and 2 cities. Ever since people started playing online rummy on their devices like laptop, desktop, tablets and smartphone there has been this debate about what is the better device to play the game on. For better understanding let's keep desktop, laptop and tablet in one category called desktop rummy and keep rummy played on smartphone in the category of mobile rummy.
Since the debate has been about should rummy players play the game on the desktop or on the mobile? Let's look at some factor that are different when you play online rummy on these devices.
Convenience: When you opt to play online rummy on your mobile you have chosen convenience of playing the game anytime and anywhere. Since it only the smartphone that an online rummy player can carry anywhere with him without any hassle. This is not possible in case you opt for desktop rummy. Desktops can't be moved so frequently even laptops and tablets are a little too big to be carried everywhere. Playing on even on your laptop or tab requires at least a minimum seating arrangement which sometimes is not possible on every location you are at. So, for rummy players who eat, breathe and sleep online rummy, all they have to do is download the rummy app on their phone to play the game.
Offers: Most online rummy gaming platform give great offers and incentive to their rummy players to keep playing the game. If, however, you do a deeper analysis you would notice that most of the good offers that online rummy gaming providers give are for their mobile apps and not on their desktop versions. Hence, they are clearly targeting the mobile users since that has larger player base.
Internet Connection: To play online rummy on desktop a player needs a stable internet connection even if you intend to move. Though you can connect your devices to LAN & WiFi but since it again comes to mobility issue as these connections can only be reached till a certain distance. As far as playing rummy online on your phone is concerned you can do that anywhere because of the 4G network on your devices.
Game Interface: Compared to other devices smartphone screens are smaller, the interface is also optimised to include only the basic factors of the game. Unlike on desktops, in the online rummy mobile version of the game players will be able to see a much bigger table and much larger cards. You can also see the avatars of all the players who have joined the table. Since, there are space constraints, the online rummy on mobile gives priority to the cards that you are holding which is a major part of the game play.
Privacy: This is one of the most crucial aspects of playing online rummy. A player must make sure that all the online transactions made with regards to the real cash on the gaming platform as safe. It is absolutely necessary to maintain your privacy especially when playing rummy on desktop because when you download the rummy app on phone privacy protection features are usually there.