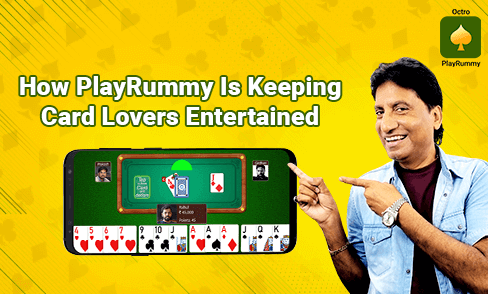 Card games like online rummy are a great source of entertainment where people can have fun by showcasing their skills. Playing rummy online is just the upgraded form of playing the classic rummy game on a device.
Octro, a leading online gaming company a few years ago, understood what rummy players wanted and came up with the PlayRummy app. The game became an instant hit among rummy lovers. Over the years with improvements in technology, boom in the smartphone market and internet data becoming cheaper in India, the Octro's rummy app has been keeping card lovers entertained. Below are some of the ways in which it does it-
Play Anytime, Anywhere:
If you play online rummy on this app you don't have to worry about planning or scheduling the online rummy games. No need to hunt for competitors who love rummy like you. You don't even have to travel to a particular venue to play. You can get your dose of entertainment playing the game anytime and anywhere as per your convenience. It's a hassle-free process because 24X7 365 days there are players playing on this app. So, you no longer need to wait to call or invite people to play with you. All you need is a device with internet and PlayRummy will keep you entertained.
Different Rummy Variants:
Entertainment is also about variety. For instance, a movie watcher likes watching different genres of movies, the same is the case with rummy players. They too like playing different kinds of rummy variants and this app is the one stop shop for a lot of game modes. Here players can find options for points rummy, deal rummy and pool rummy. There are also different tables as well depending on the number of players you want to play the game with. All you have to do is choose the game mode and play.
Great Offer & Rewards:
Entertainment a player gets by playing on the best rummy app is even better when you look at the offers and rewards players enjoy here. From daily prizes to festive bonanzas there is always a reason to win big on PlayRummy. Also don't forget to collect your welcome bonus as well if you are playing this game for the first time on this app.
Smooth Gameplay with Automation:
Let's take an example of movie lovers again. They won't enjoy the movie if the video quality isn't good same is the case with an online rummy player. If there lags in the app, or the game is slow players will leave the platform. PlayRummy app has none of these issues and hence when you download a rummy app on your device and play, you will experience a smooth game interface which enables fast gameplay. Steps like distribution of cards are automated, and it takes seconds to get the ball rolling.
Fair Play Policy:
Rummy players understand that the rewards when it comes to real cash games are good in an online rummy game, some also try to take advantage by unfair means. This leads to frauds that are regularly reported in the online real cash gaming industry. This rummy app has a zero-tolerance policy towards fraud and cheating. If any player registers a complaint with the platform about unfair play, a dedicated team promptly looks into the matter and conducts a fair investigation. In the investigation if it's found that a fraud was committed, there is strict action against those guilty. Not only this, the platform also ensures that the victim's loss is properly compensated. These frauds could range from the shuffling of cards or ensuring that a player gets a particular table. On this online rummy app, the seating is random ensuring that the game table is not controlled by any one player. The shuffling of cards here is automated as well so chances of cheating are comparatively much less. The app is well-equipped with fair play plug-ins that monitor every player and ensure the game play is clean. Thus, you can play and be entertained without worrying about being cheated.
Fast Withdrawals:
There is a reason why people consider this as the best rummy app because it encourages players to show their skills and if by doing so, they win, the platform considers it as its duty to help players withdraw their winnings directly in their bank account. The withdrawal process is smooth and quick so that players also know that if you win big on this platform you can enjoy the benefits of those rewards without much formalities.
Prompt Customer Support:
This online rummy platform has an effective customer support system which can be reached through call or email. This isn't all, the team also keeps on checking with the users themselves, in case they are facing any issues regarding the game. This prompt service has made them the best rummy app.