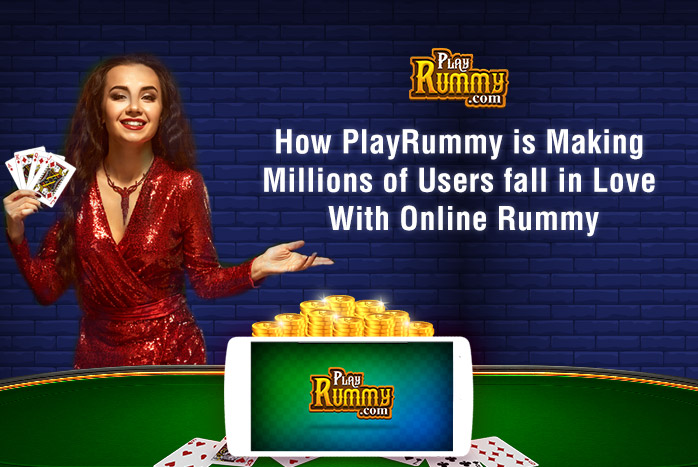 Have you ever thought how and why PlayRummy game is making millions of users using the platform fall in love with the online rummy game? With the number of people joining the our platform is increasing day by day, there has to be a reason why it's happening on a regular basis.
While playing online rummy a player to be skillful, it also is the most entertaining card game available in this day and age. However, if one wants to go deep and explore more about what's additional to this beautiful game that has seen an increased user base immensely then we have to dive further.
Tutorials:
First things first, players like playing rummy on this platform because of the self-explanatory tutorials even for the beginners. Unlike the manual rummy game where players are dependent on co-players who might or might not reveal the tricks of the trade, PlayRummy tutorials help aspiring players to master the game quickly and become competitive.
Rewards:
Even after a player goes through the tutorial rummy as a game requires immense dedication and practice to master. The more one plays the better one gets at it. The game is an easy paced one and might take considerable time to complete. However, if one has to master such patience, they need some incentives to keep at it, and these incentives come in the form of rewards and prizes. Hence, a vital factor that most rummy players look for, before beginning their journey is a win that gives them much more than just being called the players. Playing Rummy online offers better rewards when compared to the traditional offline form. PlayRummy is one such platform where players can win good amounts of cash rewards depending on the type of game they choose.
Company:
Playing rummy, whether online or offline, depends on the number of co-players players available to compete against. Long lasting friendships and rivalries are built on playing the game. Some online players will swear by each other and will actively play among themselves. A platform like PlayRummy facilitates this by making sure that they retain the players due to excellent game interface, fair play and exciting opportunities for their users. This, in turn, ensures that the players of rummy are loyal to the platform as well as each other, thereby enhancing the overall game playing experience.
Thrill:
Since rummy games that can easily go on for hours, it can't be compared to other games. The level of engrossment that rummy generates is far higher than other card games and this is another factor that players love about the game. This thrill though is not just limited to one single game but rather the ability to challenge yourself and improve your skills on the way. On this platform, beginners can start playing on easy variants first. Once they feel they have mastered the game enough to move to other formats like tournaments they can go ahead. There are a variety of PlayRummy tournaments to opt from which have a minimal entry fee. Here you can challenge your skills as well as the skills of others too. Along with that, you win great rewards also which encourages you to give your best.
Variations:
In the long run it doesn't matter how engrossing a game is, eventually playing it will slowly make a player get used to it and in a way insulate him/her against the game. PlayRummy, however, as a platform has a way around it, and it's called variations. It has multiple variations that you can play, ensuring that under the canopy of rummy there always exist several games with different challenges and strategies applying to keep you entertained and engaged. All these factors ensure that the gaming experience never gets boring. Here one can choose playing these variations, each with a different pace and skill set. The good aspect being that it can be done without any hassle.
Fair Play:
Players love the PlayRummy platform for online rummy because players here don't have to worry about co-players cheating. Here the seating is random ensuring that the game is table is not controlled by any one player. One basic example that the shuffling of cards is automated so chances of cheating are comparatively far less. The app is well-equipped with fair play plug-ins that monitor every player and ensure no one is cheating. If someone still cheats then the individual will be removed from the platform.
Support:
While most the game runs smoothly but just in case a user does face an issue or need any kind of help related to the game, he/she can always reach the PlayRummy support team through ways like call, chat or email. This goes a long way in making the player continue their love for online rummy.
Do you have any queries in your mind regarding how to play rummy? Then have a word with our team right now, call us or drop an email at [email protected] Hence, do not hesitate to connect us whenever you need help.