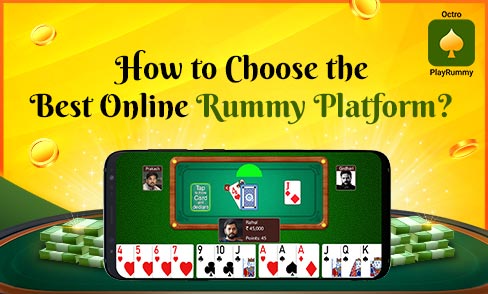 If you are a player who loves rummy and your rummy passion is something you value over most other things in life then you will know that choosing the best online rummy platform to play is very important. The selection of the correct rummy app is as vital as displaying your rummy skill during the game. There are certain aspects that every rummy player must take into account before they decide to download a rummy game from a particular platform on their smartphone.
So, here are the factors you need to look into before zeroing in on a rummy app to play:
RNG Certification: It's the most important aspect before a player decides to play rummy on a particular rummy app for free. It has to be checked that the platform is RNG certified. This certification makes the platform legitimate and authentic to play the game. RNG is Random Number Generator which means that the cards dealt in the game on a particular platform are done randomly and not by design to favour any one person or the platform. Most online rummy platforms which have the RNG certification clearly display it on their website. For players it is advised that they check the website and look for this certification to be sure that they are playing rummy on a reputed platform.
Prompt Customer Support: Always go for a rummy platform where you can get prompt customer support as a player. For instance on Octro PlayRummy you have this facility of connecting with the customer support team over call or email. The rummy platforms that have good customer support address players' grievances quickly and prove them to be genuine. This is extremely important in the case of real money games because the hard-earned money of people is being dealt with.
Fast & Easy Withdrawal: While you have rummy passion is good but at the end of the day enjoying the winning that you get by playing rummy are also equally important. Hence, smart rummy players always research about platforms that offer a quick and easy withdrawal process of their winnings. Hassle free pay-outs to the winners points out a rummy platform being genuine. This is something that you can experience on Octro PlayRummy. Here players can withdraw the amount won in the game anytime and transfer it directly to their bank account easily.
Game Variants: A good and reputed online rummy game will have most rummy variants. Players need variety and also just having a type of rummy mode on your app is monotonous. Also different players have different strengths when it comes to rummy modes. For instance, some players play 13 card rummy while others like 21 card rummy, some prefer regular rummy games while others want rummy tournaments. Hence a good rummy app will always try to cater to different players. If an online rummy platform has different variations of online rummy, it will have more players and thus, will be more prompt when it comes to pay-outs and customer service.
Safety & Security: It is important that you play rummy on a safe and secure platform. No one wants to be duped of their hard earned money, just because a platform didn't take care of the safety and security of monetary dealings on their platform. Before you download rummy games from any platform on your smartphone ensure that the platform has zero tolerance policy towards fraud and in-game cheating, that the game promotes fair-play and no bots play against you. If as a player you don't find such safety and security on a platform don't play on it because your monetary safety and security is not something you should risk at the cost of playing rummy.
Payment Modes: Another key factor before deciding to play rummy on a particular platform is that players should be sure that it supports and accepts all kinds of| payment options from a debit card, credit card, net banking, various e-wallets. Not only this, players should also look for the kind of withdrawal methods a rummy platform offers. It will make playing on that particular app much more fun.
Simple & Smooth UI: Good rummy players will agree that it is extremely important that a rummy app or platform has a simple and smooth UI. It makes players avoid unnecessary bugs while playing, making the playing experience more comfortable. So, make sure you as a player do check the UI experience before making a rummy platform a regular one to play on.
Responsible Gaming: Last but by no means the least, a rummy platform that doesn't promote responsible gaming isn't worth your time. It is important that only players who are 18 years of age are allowed to play the game. Another aspect to take into consideration in terms of responsible gaming is that the platform guides players by fixing a certain limit over which they can't deposit any amount to play.
A platform like PlayRummy meets all the criteria making it the most trusted rummy app to play.