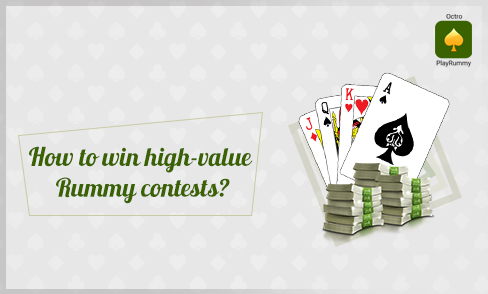 A big reason why rummy is a popular card game is because it gives people an opportunity to win real cash. Most people who play rummy online apart from their passion to play are also very interested in real cash game contests and that is why they prefer this game over other online games. These people are so passionate about the game that they keep checking out various rummy contests and various gaming platforms.
The people who play rummy online, especially the real cash game contests are on the platform because they want to win the high-value rummy contest. These are the contest alerts they want to be notified for. Winning these high-value rummy contests however, is not a cakewalk. It takes time, lots of skill, practice and expert guidance to come on top in these contests. Let's go through some of these steps that experts have given to win high-value contests.
Choose the right contest: Rome wasn't built in a day. This phrase is apt for the people who play rummy online and want to win real cash game contests. It needs to be said that winning high-value rummy contests isn't an easy thing to do for beginners because good rummy players from all around the world are fighting for the prize money. It is because of this competition that all online rummy players should choose the right contest to play. In fact, it is advised that before entering any-high value contest all players should start from small contests. Properly analyse their strength and weakness. Polish their game and then move up to play bigger contests. Anything worth good value isn't achieved with shortcuts and the same is true for high-value rummy contests. Winning high-value contests is a gradual process and depends on the player's skill.
Go for the lead: It's said that well begun is half done and it's true when people who play rummy online enter rummy contests with huge stakes. Experts have time and again stressed on the need to play bold which means that one shouldn't be afraid to play the game on their strengths after analysing their opponent's game. It is also recommended to set up your ideal hands from the beginning to easily play out the rest of the game. High-value real cash game contests usually have multiple rounds, so dominating other players on the table by scoring the least number of points is a great strategy to move up on the leaderboard. If as a player you lead in the initial rounds, the rest of the contest becomes slightly easy for you because your opponent usually goes in defensive mode making the margin between you and them wider. Then all you have to do is be ruthless and complete the formalities.
Hawk-eye on discarded cards: A rummy contest especially a real cash game contest requires a person who plays rummy online to constantly monitor the discarded pile of cards as well. This is a basic strategy but still many players don't put it to use. If done properly it will help an online rummy player to track cards that the other players have discarded there by giving you a good idea about their attempted combination which they are looking to make. This will also help you to discard cards that are of no use to your opponents to complete their melds. This practice can help you buy time to complete your game and declare before other players. A key here being that first you need to play a good number of online rummy contests to figure out if other players are also applying the same practice against you.
Learn to bluff: No rummy player is complete if they can't bluff the opponents. This is a must-have trait if a player wants to win a high-value rummy contest. In rummy bluffing is a necessary skill and it can be only learnt through hard work and practice. Luck doesn't play any role in this. For instance, a player may discard some cards only to confuse the rival or hold certain ones for the same reason, thus making it difficult for his opponent to read a hand. A player can mix and match rummy strategies to increase their winning possibilities. An example of this would be suppose you have many high value cards like AKQJ but in a random fashion where there's more identical high value cards like KK and one or two other high value cards like A or J, you may discard the later ones immediately and make your opponent believe you mean no business with them. In turn, they might discard their high value cards that could include your missing card result if you declare faster than anyone else in the contest.
Follow these expert tips to win high-value online rummy contests.