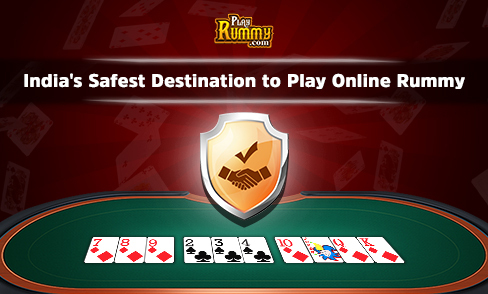 These are testing times for the entire world because of the spread of the Covid-19 pandemic all across the globe. The last thing during such times that anybody would want is to be duped of his monetary savings. This is true even in the case of playing online rummy games. If you like to play online rummy and are looking for a secure rummy app then PlayRummy assures you that you should look no further than their app which is the safest rummy app.
It's not for no reason that PlayRummy makes that claim they have certain factors to tell you and assure why they are the safest rummy app to play online rummy.
Random Card Generator System: If you want to play rummy on a secure rummy app, as a player there would be certain questions in your mind such as: Can you get the same hand again? How are cards distributed? PlayRummy assures you that all the cards are distributed randomly through an algorithm and there is no chance of anyone getting the same hand. This is done because of the random card generator system. If you have played offline rummy you would have noticed that often you get almost formed sets or sequences, even after shuffling the cards. With the PlayRummy's system there is surety of this not happening all. All the cards dealt can't be predicted taking away any chances of unfair play. This system also is an important factor that strengthens the security of the PlayRummy game and letting people who are the most skilled ones perform well. The PlayRummy app is well-equipped with fair play plug-ins that monitor every player and ensure the game play is clean. The platform in the past and even now continues to remove players who adopt any unfair means.
Secure Payment Gateways: One of the key components to make an online rummy platform a secure rummy app is to ensure that the payment gateways that are used are absolutely breach free. Most rummy players play the game because they are attracted by the cash rewards that a winner will get. When someone wins, the money is directly transferred into their account through various payment gateways that they would have opted in the beginning. These gateways are also used when a player transfers money into his gaming account to enter paid games. For this process to work smoothly PlayRummy requires the users personal and account details. This information given is highly confidential and users can share it with complete trust. To protect these details, the PlayRummy platform has set up various levels of security from encryption of data to blocking scamsters. This enables them to play their favourite rummy game on the safest rummy app with a free mind.
Clear Rules & FAQs: The PlayRummy website has mentioned all the rules regarding the game on their platform very clearly. Anyone who wants to play this online rummy game can visit the website www.playrummy.com and go through these. This will make an aspiring player know all the terms and conditions that he/she will have to abide by when they play rummy on the safest rummy app. This is not all, on the website there is a section where there are a lot of frequently asked questions(FAQ). These have been provided for the user to go through so that he/she understands various aspects of the game so that in case of minor hiccup during the game they don't have to run from pillar to post to resolve it.
Regular Customer Support: The PlayRummy platform has an effective customer support system which can be reached through call, email or chats. This is not all, the Play Rummy customer support team also keeps on checking with the users themselves, in case they are facing any issues regarding the game. This prompt service has made the Playrummy users rely on them without any doubts. The customer support executives provide users the best advice keeping them at priority. If this is the kind of prompt response that users have been getting then one can be rest assured that the platform is a safe and secure one to play online rummy. The well-trained and soft-spoken staff and their willingness to assist the users makes them a platform that is highly recommended among rummy users.
All For Responsible Game Play: If you are a passionate rummy player then it can sometimes happen that in order to win more or recover your losses you might engage in irresponsible game play. This could lead to you to be addicted to the game which should never be the case because everything should be done within limits. This is the reason PlayRummy as a safe and secure platform also guides players regularly through their team to play the game in a responsible manner.