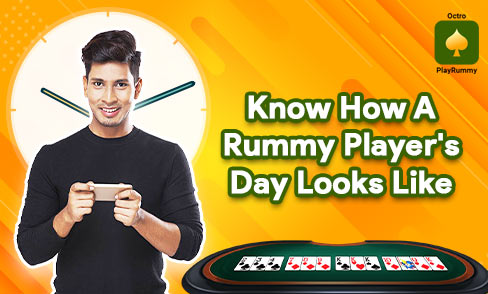 It's believed that people who have something exciting to look forward to every day are happier than others who just have a dull routine to pass the day. When it comes to exciting routines, a passionate rummy player's day is an interesting proposition to understand. People who want to play the Indian rummy game will understand here how a rummy player's day looks like.
Check-out Interesting Tournaments & Offers: People who play rummy begin their day scrolling through various rummy apps, their websites and social media accounts to look for the tournaments and offers that will be there on that day. By going through these they plan the tournaments they want to play and the offers they want to avail. This is a time-consuming affair as it's not easy to choose various interesting offers and rummy tournaments on different online rummy platforms. However, like everything else if you like the process, you will enjoy it and over time become better at it.
Zero in On a Table: Once players have decided which tournament they will play in, the next step is to decide the table on which they want to play. There are high-stakes tables and low-stakes one as well. Especially in point rummy there are tables with two players and tables where six players play against each other. Depending on the time a person has and the level of experience they have playing online rummy they zero in on the table. This is an important aspect because choosing the correct table to play rummy according to the player's strength is crucial in terms of the result of the game. Players who want results quickly usually go for two player tables while experienced ones and those who have more time at hand play on a six player table.
Decide The Playing Duration: If an online rummy player does some other work during the day, then they also have to decide during which part of the day they will be able to spare time to play a game. In online rummy players should carefully decide on this because if you have opted for a game that is likely to last longer but you have less time to spare chances of you making mistakes playing the game in haste are more. Hence, passionate rummy players decide to play in tournaments and games depending on what other work they have scheduled during the day.
Decide The Amount: This is another important decision that rummy players have to plan during the day. The amount with which they will play the game has to be budgeted in advance. This is vital because it keeps you in control of the amount you are going to put in at risk especially if you are playing a high-stakes tournament. Good online rummy players always plan this at the start of the day so that they never go overboard. Players who have a habit of playing in-order to chase their losses also find this approach helpful as their playing budget in advance.
Analyse The Day: While the day is spent playing the rummy game or rummy tournaments which the player decided to go for at the beginning. The later part of the day is all about analysis and looking at the mistakes that were made during the day. This part of the day teaches the rummy players to prepare better for the next day. It is an important exercise in a rummy player's day because the players who don't analyse how they fared in the games played during the day they won't learn from the mistakes.
The Weekend Approach: Like in all other aspects where people generally change their working approach during weekends, the same theory applies to online rummy as well. Weekends mean taking your time and being a little more relaxed than weekdays. The planning aspect however can't be compromised but what rummy players do differently over weekends is probably play a lot more games and tournaments because they have more time at their disposal. Weekends are also spent availing special offers. These two days rummy players also spend trying new rummy games online and also studying various strategies by watching others play and even watching video tutorials and taking notes on the tips to apply. At the end of the two days the analysis part again is a must for most good rummy players.
If you were surprised by the kind of gigantic effort which online rummy players put in a day to excel in the game and win big rewards don't be because nothing great happens without hard work.