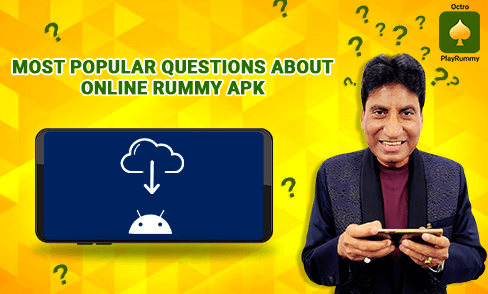 There are some terms that people who use android devices come across on a regular basis. One of these terms in APK. It's an abbreviation for Android Package Kit or Android Application Package. If you are an online rummy player and play real cash rummy in India you would have come across this acronym many times. But have you ever wondered what exactly it means? Queries like this and many other rummy FAQs are something a lot of online rummy players face on a regular basis. Here, we will talk about some of these really popular questions about online rummy APK.
What is an APK?
First things first let's understand what APK is. It's a file format to install apps and games on android devices. It has every component required by an app to be installed successfully on the android device. The process for installing an app using an APK is also known as sideloading. Now let's explain all about Rummy APK– While downloading India's best rummy app Octro PlayRummy through APK, what are the rummy FAQs that come in a player's mind?
Is it safe to download the app using the APK file?
This is usually the first question that comes to a player's mind. It's obvious that people have doubts when it comes to trusting any source other than Google Play to download an app. However, if a person keeps a few important things in your mind, then it is not at all unsafe. APK is one of the most malleable Android features, and it is the correct method to keep the basics intact. Never download APK from any third-party links. Visit the official platform and then download the APK file. Never trust a third-party claiming to be PlayRummy or associated with this Indian rummy app. Visit the official website of the platform and you will find the authentic Play Rummy APK File there to download.
Should I permit my device to enable the 'Install from Unknown Services' option?
Online rummy players shouldn't worry about this. If you are downloading an app, not from Google Play, your device will ask for 'Install from Unknown Services' permission. All you would have to do is enable the option in the privacy settings to download the APK file. It's absolutely safe if you are downloading the APK file from the official source.
Where to find this option on my phone?
If a player is unable to find the 'install from unknown services' option on their phone, they should open their phone's settings.' Go to the security, look for unknown services and enable it.
Phone Setting>>Security>>Allow Unknown Source
Are there any other requirements that should be fulfilled to download the APK?
A player can take care of some basic aspects – Close the other applications running in the background while downloading the APK file, ensure that the internet connection is a stable one and have the required storage in your android device or free it up in case there isn't enough space.
The download is complete but still can't find the app on the phone?
This is an issue which some players might face but it's not a big deal and can be resolved easily. All the player has to do is first check the notification bar. If the app is not there, the APK file will be there in the Download folder. After you have successfully located the APK using the file manager you can install it.
Will all rummy variants be there in the APK version?
Rest assured that when it comes to India's best rummy app players will get the full version of the rummy game with all latest updates including features and offers. All a player has to do is download the game through APK and play to win real cash rewards. Players are also regularly notified of the app updates to use the upgraded versions.
How can I keep my online rummy account safe?
Make sure that the password you use is a strong one. Never ever share it and the OTP with anyone. Always be alert of any fraudulent calls from fake customer care numbers and forwarded threads on various social media handles. PlayRummy updates every communication on the official website so check it regularly before believing any other source.
A link to download the APK has been received – What should be done?
Never click on it. Unless the request for the link was requested by you visiting the official website, it is fake. If you receive such link/s –report it to the customer support team of the online rummy app and they would take care of the rest.
I'm from a state where playing online rummy isn't allowed, Can I download the APK file?
If you are currently in a state, where playing online isn't allowed by the government then you might download the APK link but you won't be able to play the game because of the authorities' regulations on the online rummy game.
Is PlayRummy a certified online rummy gaming platform?
Don't worry about this at all because PlayRummy is RNG certified gaming App and also recognize by iTech Labs.
Random Number Generator (RNG) is an algorithm that enables a software to generate numbers which are statistically random. This ensures each player gets a fair chance of winning. This makes sure that there is honesty and transparency which establishes a platform that operates on fair play policy.
This certificate is awarded by a testing body, certified to ensure that gaming platforms adhere to t