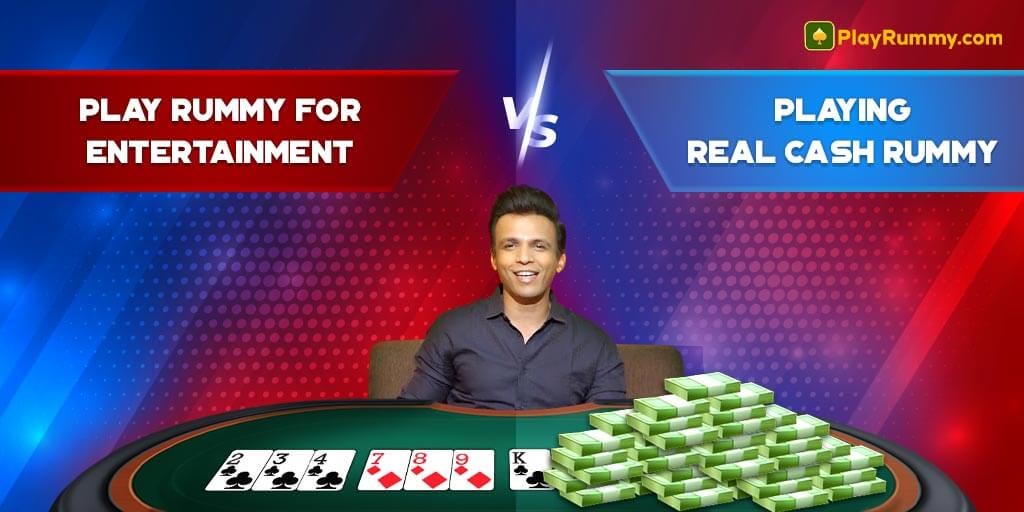 The origins of rummy are often a matter of debate. Some believe it originated in Mexico and is a variant of the game called 'Conquian', while others believe it is a result of a Mahjong variant named Kun P'ai and was later changed into a game called 'Khanhoo' by the west. Well, whichever origin may be true, there is no doubt that India adopted this game with open arms and made it into their own 'Indian rummy'.
This game is so deeply rooted in Indian culture that it has become a part of popular festivals like Diwali and Holi. Many families spend quality time playing this game together. And ever since the internet boom, it has become easy to play India's favourite card game with players all over the world. With such ease comes an important decision: Should you only play rummy just to quench your rummy passion, or should you try to make some money out of it?
Fun is the Main Reward!
If you are just beginning your journey into the rummy realm, then playing the free games should be your first stop. There are plenty of online platforms that allow you to enjoy the game without asking for an entry fee. Apart from not having a cash prize, these games are all the same to real money rummy and your experience of the game would in no way be diminished. There are plenty of reasons one should start with the free rummy games:
Your 18th Birthday is still far-off?: If you're below the legal age limit of adulthood, then playing with real cash should definitely not be on your list. When real cash is involved, the competition is cut-throat! The fun component can quickly vanish if you are out of your depth on the table. You can enjoy the rummy app for free and become a better player so you can win some real prizes once you grow up😉.
Refresher course on Rummy Rules: Rummy app has a lot of variants and the rules often differ based on which part of the country you are playing from. Therefore, it is always a good idea to play a few free games on your platform of choice so you get acquainted with the rules of that particular variant of rummy.
Build-up your skills: Even if you have been playing for a while, it is always a good idea to hone your skills before you decide to put your hard-earned money on the table. The online rummy game is a ruthless one, you are going to play against the best in the country. Entering without gathering enough experience will be heavy for your wallet!
Money Talks!
Rummy is fun whether you play with money or not. But earning cash reward for your skills adds an extra colour to your experience. What better way to gain confidence in your skills than winning a real reward for them? There are a lot of online platforms that take an entry fee from you and let you play exciting tournaments and win amazing prizes. And it's not just the winning prize that you can get, there are plenty of other rewards you can bag. A few reasons for playing real cash rummy are:
Winning amazing prizes and rewards: This has to be the biggest attraction of playing with real money, winning real money rewards! You can enter these games by paying an entry fee and get a chance to win pool prizes that can reach crores! Many games offer prizes like cars, bikes, or laptops in lieu of cash money.
Play with the best!: The players who have tested their mettle with this game usually move to the real money rummy game to monetize their skills. If you want to play with the best, then a rummy cash game is the place to be!
Other bonuses and rewards: Other than winning the pool prize, there are many other bonuses and rewards you can win just by participating. Many games have weekly, daily, and monthly offers for you to win. Many games even have a joining bonus that you can get just by registering.
So, Which One Should You Choose?
Both games have their own merit, and you should choose your game based on your level of skill and your experience with the game. The aim of playing a game should be enjoyment. If you are new, stick to the free versions, build your skills, and enjoy without the worry of losing your money. Once you have enough confidence in your skills, then you can add the extra thrill of winning rewards and playing with serious players in the rummy cash game.