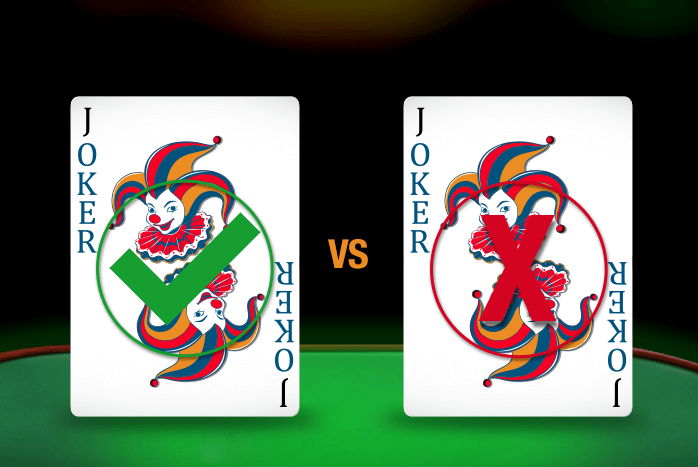 Rummy is a popular card game played in numerous versions around the world. The one we choose to make is the so-called "RUMMY 51" version. Rummy is not a simple game, but once you master the rules, you'll be happy you learned how to play. Rummy is a skilled based game played with one or more deck of cards. While a deck of cards consists of 52 cards i.e 13 cards from each pack from A,2,3,4,5,6,7,8,9,10,J, Q and K. An extra of 2 cards of 'joker'. Well, when we talk about the joker cards, we should walk through the tricks to come out victorious in Card games.
Play Rummy Online With Joker
Joker plays a significant role in the rummy game. In not just being a card, it also helps to join a Broken or Imperfect sequence to a perfect one. In rummy, there are two types of Jokers i.e PRINTED AND WILDCARD JOKER. Both these jokers make the game super fun. The wildcard joker is intriguing because a random card is picked before the game and it takes the character of the Joker.
As Joker makes playing rummy easy or it could also be said that winning a rummy game becomes easy when playing the game with a Joker card. Since Indian rummy is a game of skill and to test the real skills of playing rummy, some people actually play rummy without the Joker card.
When you Unpack a deck of cards, you have two printed jokers as said earlier. Most players of the game do not know if they should include the joker card or leave it out from the card game. The difference a joker makes to a game depends on your level of rummy skills. If you are a Newbie in the game or your gameplay is still at the amateur stages, it is much advisable to play with the JOKER. It is easy, quick, and fun to use. If you are old to the game and your gameplay is at the professional level and you decide to make it challenging then it is advisable to play the game without a JOKER.
Ways to Use the Joker Wisely:
• Focus on Pure Sequence
In rummy game rules, jokers are often used to form an impure sequence with the rest of the cards. It is therefore highly recommended to focus initially on forming sequence without using the joker card. If one can play rummy on pure sequence with/without joker, they are called experts. If you still see the impure sequence, then use jokers to blend and discard the remaining cards very quickly.
• Discard and group the cards with Joker
A smart way to play rummy is to discard cards close to the wildcard. This will confuse the opponent and they will assume you do not have a Joker card. Avoid melding any cards with a joker to form a sequence, keep it as a last move in the game. Do not forget to throw away the high-value cards in the card pile. Once you have good cards in your hand and you feel you have high chances, then club the joker with the necessary combination and move closer to declaring.
• Take Huge Advantage of the Joker Card
One or more joker cards always help to finish off any challenging game.
Playing Rummy Without Joker
Since Indian Rummy is a game of skill and to test the real skills of playing rummy, some people play rummy without joker. Playing rummy without a joker is not that easy as it takes a lot more time than playing rummy without joker, Your actual Capacity is tested and this is when your rummy tricks and skills become very crucial. Playing rummy without a joker is the time when you really have to focus on the cards picked by your opponent and also you have to do quick calculations and make a few guesses on what can be a really useful card to your opponent. Playing rummy with a joker and without joker are among the different ways in which the rummy game can be played.
The Joker vs Without Joker – Which one is Better..?
This is a really debatable topic that has a subjective answer. Almost all the online rummy platforms such as Rummy circle offer customers an opportunity to play rummy with joker cards. It is the most entertaining way to enjoy this card game.
Online rummy is a skill-oriented game that is surrounded by excitement and considers the skill-level of everyone. There are different competitions that allow you to test your rummy expertise. Come play the Rummy game online with joker cards and win amazing rewards
Connect with Us for Trusted Portal to Play Online Rummy
Do you have any queries in your mind regarding how to play rummy? Then have a word with our team right now, call us or drop an email at [email protected] Hence, do not hesitate to connect us whenever you need help.
So open the PlayRummy app now and win big cash.