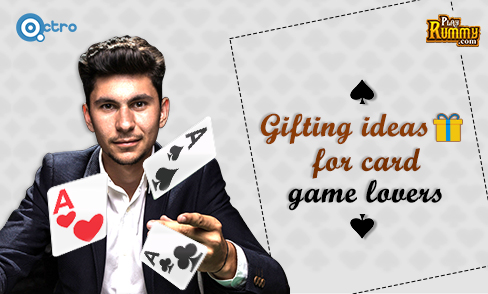 Most of us like gifts because it makes us feel special. Gifting a present to someone, however, can be a tricky affair sometimes especially, when one doesn't know what to gift. Gifting something that the other person likes is the most important aspect here. What often happens is that even when you gift something, the person might not like it, or it's of hardly any use to them. So, knowing what to give is as important as the emotion behind it. This logic also applies when you have to gift something to people who are card game lovers. Let's give you some ideas of gifts that a card game lover is likely to enjoy.
Pack of Playing Cards:
If the person is into card games like rummy or other such ones then apart from suggesting them to download the best rummy app like PlayRummy to play online rummy you can give them a new pack of traditional cards. This is something they are most likely to appreciate because they love the game. These cards come in different forms along with their case. These can be properly kept there. While a good deck of cards might seem a very obvious idea to gift, but you should never underestimate just how useful it may be. A new deck of cards feels fresh and crisp, ready to be played. Better still, since they are extremely affordable, gifting a few decks together will keep the recipient well supplied for a long time.
Premium Chip Set:
If the person likes a card game like poker, this is something they will really appreciate card game lovers also like. A game of poker only needs a thing like chips and some cards to play. If you can give a good pack of chips it will make the person's poker playing experience even more rich. These chips are easily available on various eCommerce platforms. So, you don't even have to go out to buy it in these challenging times of Coronavirus, you can order these online and it will be delivered to the card game lover you wanted it to be gifted to.
Books on Card Games:
If you know a card game lover who is really passionate about the game then you also know how much time he/she spends wanting to learn new skills and strategies to improve their game. The second-best thing to learn new skills and strategies apart from doing it while playing is reading about those. Hence, they are likely to love books on card games strategies. These books can teach them how to master their game. These are helpful for both beginners and experienced players. With so many rules in card games, mastering it is tough, so a good book on the subject can certainly be helpful. The person who gifts it is likely to be remembered for the effort they put in to select the gift. Also, these too are available online so all you have to do is a little bit of research on which book you should buy.
Custom-made Apparel:
As kids we have all worn jerseys and owned other apparel that either our sporting heroes wear or even those of our favorite movie characters. You can surprise a card game love with a t-shirt or hoodie that has something related to the game printed on it. All you would require is to keep the graphics and quality of the material in mind depending on the weather of the place where the person who has to be gifted lives. You can go for a custom-made apparel that has some witty gaming message printed on it along with their caricature graphic. Don't go for something that is too cheap because it is not likely to last long. Make sure that material is safe and the person you are gifting isn't allergic to it. Once all these aspects are taken care of you can go ahead and place the order for it to be delivered.
Billiards Table:
If you have the budget, because this one isn't a cheap option and the person you are gifting is really special to you, then they can be gifted a billiards table. The reason for this option is that the real choice in the skill game world is all about having a good table. In a game like poker, a table is the central component. It is not just about the surface, but on these tables, it is easy to organise and contain chips and cards for every player. A billiards table seems to be a great choice for Poker because it includes more than six dedicated playing spots with a built-in cup holder. The padded rails provide comfort during long games as well. These tables are durable and easy to store because of its foldable legs.