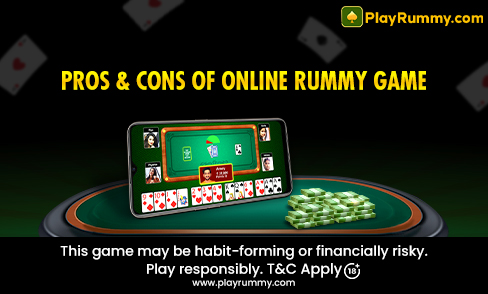 There are two sides to every coin. In this blog we will first focus on the pros of online rummy games and then shortlist some of the cons as well.
Accessibility: It's obvious that when something is available online, it is far more accessible to something that's offline. It's the same with playing an Indian rummy game online. Now players don't need to wait for a particular day or time to play their favourite rummy game. Thanks to the internet and technology it is always available as long as you have downloaded the app on your smartphone. Now all you have to do is tap on the game icon on your phone to play it anytime and anywhere.
A Bigger Player Pool: Only in an online rummy game you will get an opportunity to play with various players across the globe. There will never be a time when you will struggle to find players to play with you online unlike while playing offline. Whenever you join any table or contests, there will always be players available to play.
Improves Decision Making: In online rummy the players are required to create sequences and sets before making a valid declaration sequence to win over its competitor. Before picking or discarding any card the players need to assess if winning a particular card or discarding it yields good results or not. Doing this kind of decision making every time is bound to improve a person's decision making ability.
Improves Memory & Focus: If you are someone who wants to improve memory or focus on a task for a longer period of time then playing online rummy can really help. The game will need you to remember moves that you or other players have made. Doing this consistently will help you improve remembering things, events etc there by improving your memory and enhancing your focus.
Relieves Stress: The lifestyle most of us have today isn't a healthy one. We are either too busy working or running around to meet other requirements. This constant race for survival does adversely affect us mentally and this is the reason most of us have some kind of stress. While online rummy games are not a permanent cure for stress, taking time out to play a game can help you feel a little relaxed, even if for a brief moment.
Builds Patience: Rummy game is all about skills where players use different strategies to have an upper hand in the game over their opponents. Understanding all the moves that are made on a rummy table while playing online or offline requires patience because players can master this game after regularly playing it. This effort helps a person improve their patience.
Big Rewards: When you play rummy offline the money that's pooled by all the players is the reward. This reward in most cases isn't big enough because of the limited number of players. When it comes to online rummy games the prize pools and rewards are usually much bigger because the number of players taking part is much bigger. Cash rewards during some tourneys can even be in crores of rupees. This is one of the big pros of playing online rummy so, all you have to do is learn the rummy rules.
Now let's factor in some cons about online rummy.
Splurging: Anyone who plays rummy online should always play responsibly. By responsible gameplay we mean that the players shouldn't over-indulge in the game. It's been reported a lot of times that some players play the game spending too much of their money which unfortunately isn't the correct approach. Everyone should set a financial limit and only play with money which they can afford to risk. Some gamers cross that limit and overspend. In order to tackle this issue an app like PlayRummy has set a deposit limit on its app for both android and iOS beyond which players can't deposit money to play online rummy on this app.
Addiction: Since the game is so interesting because of the fun and rewards it gives its players some players do over-indulge in it. Hence a lot of new players are apprehensive on thinking they too would tread down the same path. This however, can't happen if you have self-control. It's like saying because a lot of people are smoking cigarettes you too will. Everything is about self-control if you have it, a game like rummy is the most fun thing to play.
Not All Platforms Are Safe: In the online rummy gaming market there is cut-throat competition. A lot of online rummy apps aren't considered safe by players who consistently play the game. There are some platforms which entice users to talk about their rewards, but they might be lying. Hence, it is the gamers responsibility to only play online rummy on the most trusted rummy app.