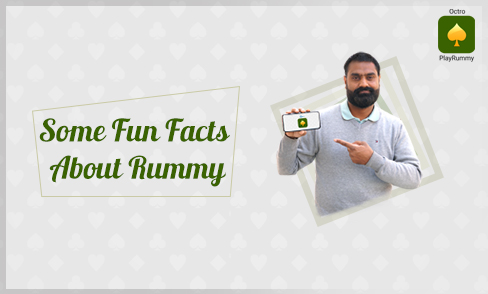 Do you, like many others, feel that you are so passionate about the rummy game that you know all about it? Do you also feel that right from knowing how to play rummy to having the knowledge about all the rummy FAQs on various playing platforms is something that is at the back of your hand? While these facts might be correct to an extent but the truth is one can never know all. The best approach in fact in life is to feel that one doesn't know everything. This approach pushes a human to strive and learn more ultimately becoming even better at something they earlier were good at. So, while you might claim to know all that is there, here are some fun facts about your favourite rummy game which you might not be aware of completely.
No Clarity On Origin: Different people claim different things about how the rummy game actually came into existence and this has led to a debate over the years. Some say that the game originated from Spanish aristocratic card game called Coquina. Others claim it originated in French Poker. Then there is the third category who believe that the game came from the Chinese game Mahjong, that was played with chips instead of cards.
The Rum Connection: United Kingdom (UK) has in the past claimed that the game's name comes from Rum Poker. In the UK, rum is a slang used to describe anything peculiar or odd. There have also been claims that at one point of time the game was played for rum, where the loser had to buy drinks for the winner after a game and that drink was rum hence, the name rummy.
The Record That Stands: There is a story that once there was a player who won a rummy game with the highest victory margin of 500 points. No player, till the time of writing this piece has been able to better that record.
Hand Painted Cards: These days there is a deck for everyone who wants to play rummy and everyone can easily afford those. Back in the day however, owning a deck of cards was something only the rich could do as decks were expensive. Those who couldn't afford it used hand painted cards to play. We are however, certain that today if there are hand-painted cards, those would be much more costly than the machine printed ones that are most commonly played with.
Sixty Game Variations: The rummy game is so popular around the world that right now there are sixty different variations. Some of the most popular ones being: Indian Rummy, Gin Rummy, Rummy 500, Three Thirteen, Block Rummy, Round the Corner rummy, Bing Rummy, Shanghai Rum, Knock Rummy, Speed Rummy, Tong-its, Contract Rummy & 13 Card Rummy played in different regions and corners of the world over a long period of time. There have also been claims that card games like Bridge and Pinochle were also derived from rummy. This makes rummy to be the mother of all card games.
Improves Hand-Eye Coordination: In the past studies have claimed that people who play rummy have better hand-eye coordination and are also better at understanding mathematics. Their visual judgement also improves by playing the game.
Makes You A Mind Reader: Not only does the game improve players cognitive skills, it can also help in you becoming a mind-reader because while playing rummy a person regularly does analyse other people's gestures, stances to win the game.
Stress Buster: Many people play rummy regularly because it helps them relieve their stress. Over the years it has been considered a game which can really help a person unwind after a tough day. So, if ever you feel mentally tired and are looking for a fun way to relax do try PlayRummy which is India's most trusted rummy app to play the game.
It's A Game of Skill: Contrary to what many believe that rummy is won or lost on the basis of luck, it's a game of skill. This is the reason behind even courts of law also considering it as a game of skill and hence completely legal to play in most countries. This is also the reason behind the rummy game being a source of income for many people around the world since it's not considered as gambling.
Developed A Sense of Community: People who knew how to play rummy in the early 1960s confirmed that just like board games rummy was also enjoyed by families then. Since, it was a game that involved a number of players playing the game together it helped in developing a sense of community in players. This bonding that happens over the game goes a long way in forming life-long friendship way beyond the rummy table.