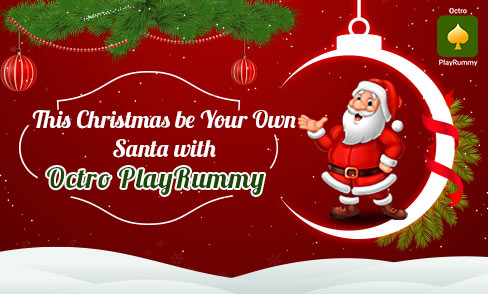 On this Christmas eve Octro PlayRummy gives you a chance to be your own Santa. Yeah! You read it correctly. Now the obvious question that is coming to your mind is how is that even possible? And even if it is, do you have to put the Santa suit on and give something to yourself?
No, you can wear anything you want but a gift you will have to give yourself, family and friends in the form of amazing real cash rewards, offers and play many upcoming and ongoing rummy Christmas Carnival tournament 2021 on PlayRummy.
So, here is a step-by-step guide on how you can turn as your Santa on the most trusted Indian rummy app:
Download The App: First things first, like Santa prepares for his role before he begins distributing the gifts to the people, you will have to do the same. In this case, you will have to download this rummy app. Then you will have to go through the rules and tutorials. After you do this, you will know the game better.
Check Out & Avail Offers: At any given point of time this card game app has various interesting and beneficial offers for online rummy players. There are welcome bonus offers, deposit offers and many more which you can explore. Depending on which offer suits your requirement you can avail its benefit. Offers are a great way to make money easily on this rummy app. For instance, during Christmas there will be an offer which can give you 15% extra cash on deposit up to Rs 2000. The minimum deposit that a player can make here is as low as Rs 100 and then claim the reward through a scratch card. This offer will be followed by a couple more interesting ones titled -Year End Extra Privilege Offer and Welcome 2022 offer with Extra Benefits. The details of these could be checked on our rummy app.
Play Tourneys: There are many amazing rummy tournaments going on the PlayRummy app. In some there is a nominal entry fee to take part in the contest while many are absolutely free. You can play any tourney you like because the rewards in each of them are amazing.
Complete Missions: Like tournaments there are many missions as well which any online rummy player can complete on this app and win huge cash prizes. For instance, on Christmas, you can take part in the Christmas Carnival 2021 Mission. Here you will have to play 100 games on a table of 10p or more in a span of four days. After a player has successfully completed this task, they can pocket their rewards. These missions will be followed by Year End Mega Missions as well.
Play Regular Promotional Contests: If you are a rummy player who isn't too fond of tourneys or missions, you can always try your hand at regular card contests on our rummy app. These contests finish quickly and have great cash rewards as well.
Enjoy The Cherry On Your Cake: By 'cherry' we mean fast cash withdrawals. After you win great cash rewards by playing on the app as well as availing some amazing offer, you can always withdraw the money quickly into your bank account. It will be a hassle-free process and treat it as our Christmas present to you.
Hope you had fun reading this blog. Now it's your turn to be your own Santa on PlayRummy platform- India's Greatest Real Cash Rewarded Rummy App. Merry Christmas!!