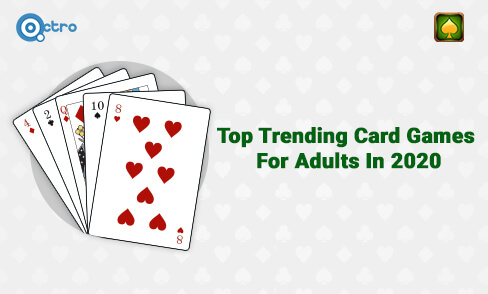 This year has been a really tough one the entire human species because of the spread of the Covid-19 pandemic. It is because of this that people have been forced to remain inside their home. With limited options available at their disposal to keep themselves occupied inside the four walls of their houses some card games have really struck a chord with them. This is the reason these rummy games have trended so far this year. Let's look at some of them.
Octro PlayRummy:
It is an most played online rummy game in India. Among the card games it is arguably the most popular game where one can play online rummy and win real cash. All one needs to do for this is download a rummy app on their smartphone and start playing. The reason why the game has received rave reviews is because there is a large pool of players that have played the game and really liked it. It is their word of mouth that has acted as an advertisement for the game. Anytime one logs into the game there are lakhs of players playing on the platform. The game interface is excellent with proper fair play plug-ins to monitor any unfair measures from players. There are also exciting rewards at stake with variations that players can try under the canopy of rummy. Apart from these their customer support is prompt as well.
Octro IndianRummy:
This online gaming platform is also owned by Octro but unlike PlayRummy this isn't a real cash games platform. IndianRummy is a casual game where players don't compete against each other to win real cash but chips. This app is also pretty smooth and promotes fair-play. It has a number of options where one can play a variety of rummy games and enjoy the experience even on private tables. It also has great tutorials for beginners as well. Once a player is confident after playing online rummy on IndianRummy they can always move to the PlayRummy platform to try their hand at real cash rummy.
Octro Teenpatti:
Owned by the same game developers this is another card game which people have loved this year. It is like poker but there is no involvement of real cash and only chips are used. The game is usually played between a group of three to six people and uses a 52-card pack without jokers. Each player is dealt three cards face down. Before the cards are dealt, the boot amount is decided and collected from each player. The boot amount is the minimum stake amount put in the pot, which is the money kept in the centre of the table. As the game progresses the pot money grows and is won by the winner of that hand. Winner is the player who remains in the game till the completion of the hand and has the best hand or the highest hand based on the cards ranking shown below. This game also comes in variations like 6 Patti, Teen Patti Battle, 3-2-1, Private Table.
Octro Sweep:
The game is also called Seep. It's a fishing card game played between two or four players with a 52-card pack without jokers. The objective here is to capture cards that have point values. The total value is 100 as under. All cards of spades have point values equal to their capture value (from king worth 13 down to ace worth 1 point). Each ace is worth 1 and 10 of diamonds is worth 6 points. Thus only 17 cards – 13 cards of spade, 3 aces of other suits and ten of diamonds has point values, while all other cards have nil point value. This game is also played with chips.