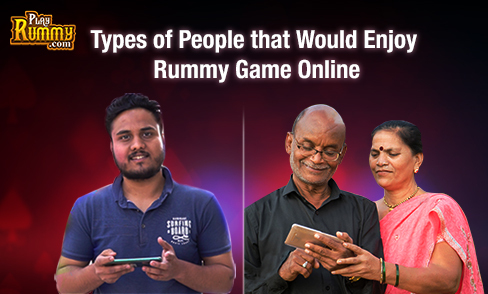 Rummy is a great and fascinating game, the best thing about online rummy is that you can find a lot of interesting gamers online. Different types of players indulge in it. Most of the time when you are playing rummy online to win cash, you would realize that you are playing against people who are unknown to you. According to recent demography, people of all age groups are attracted to the game which is evidenced by the increasing traffic to various rummy sites.
Most people have different gaming styles. If you can notice and profile the gaming pattern of different rummy gamers, you can improve your game. The best part of the game perhaps is that it serves as a source of Challenge, Fun, and Adventure for people from different parts of the world. Playing rummy online, you would realize it gets more challenging. Let's take a look at the types of people who you'll often find playing the rummy game.
The Newbie
Newbies are the kind of players that you will find easily online. They are the most common type of players particularly if you are playing in freeroll tournaments and low-value tables, then you
Are likely to stumble upon many newbie players. There is also another type of rummy player who is known as Noobs. These Newbies are new rummy players who are excited about the game and really want to learn it whereas noobs are those people who are just playing for the sake of trying something new.
The Intelligent
You can find a variety of rummy players who play free online rummy games. The most talented players that you will encounter online are intelligent players. They do not look forward to taking even the slightest of risks. These intelligent players always calculate the odds of winning. They will not play their hand unless they have as a festering hand, which contains a pure Sequence and a set/sequence. Also, these players continuously keep an eye on their points and odds of winning. They might even decide to make a mid-game drop if they do not have preferable cards. You should always be careful with these types of players as the hands they play are more probable to finish first.
Avid Online Gamers
The eternal quest of the online gamer is finding a worthy opponent to beat in a battle of wits. In a game of online rummy, you meet skilled opponents who challenge you to up your game. One only needs to take a look at PlayRummy, India's best online gaming platform gets to understand the scale of competition one will find in the world of online rummy. Online gamers are further drawn in by the fact that you can play whenever and wherever you want-all you need is an internet connection. If you're an avid gamer, you can enjoy all the thrills of a real rummy. The game against someone of highly competitive online opponents who are in it to win it.
Thrill Seekers
Online rummy is a high stakes game. It can be quite an edge-of-the-seat experience, as you do not have the luxury of looking at your opponent to try and guess their strategy by facial expressions and tells. Every move you make has to be careful, calculated, and precise. Despite your best calculations, it might be difficult to predict how the game is going to pan out. Thus, thrill and affection stake to this game particularly well. There is no scope to cheat when you play rummy online, and if you play your cards right, you can lay claim to some satisfying rewards. You must play the game with a clear and calm head and put your best strategies at work. Also, online rummy platforms such as PlayRummy hold challenging tournaments that satisfy your craving for variety. Take your pick from the Sankranti Tournament, Friday Favorites, Sunday Masters, Club Tournaments, Weekend Loot Ultimate Quest,7Daily Jackpot Tournaments, Jumbo Tournament, and Reward Points Tournament. The satisfaction of winning certainly equals the acute sense of victory most thrill-seekers feel when they successfully complete an adventure or sport.
Perfectionists
With every game of rummy, you get one step closer to mastering the game. The more you play, the better you get at it, and the more you can win. This is the reason perfectionists are drawn towards skill-based games like rummy that offer a chance for players to get better with each try. Perfectionists don't like to give up till they get where they want to be. Online rummy gives you the opportunity to play endlessly with a pool of skilled players who've come to hone their skills over the years. So, if you are rummy lover, you will find just the right community to download rummy.