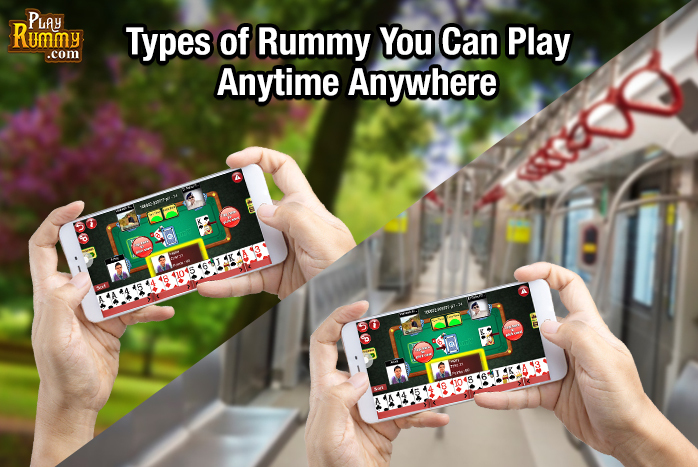 Rummy is a popular card game. Originating in the late 19th century in Mexico by the name Conquian, today the game enjoys immense popularity even in its digital format. The game of Indian rummy is often played in social gatherings and has been an integral part of the culture all over the world.
However, since there is an insane amount of rummy variants out there, what are the best options? The names and rules of these formats of rummy might vary but the objective is similar and to accomplish it, players pick and discard cards. Here we provide you with a description of different rummy variations and rules associated with them.
Types of Rummy Game:
Indian Rummy – It is referred to as an improved version of the original Rummy game. It is played using two decks of cards. Every player needs to draw and discard cards until one of the players successfully melds their cards with valid sequences or sets. Indian Rummy is one of the most popular formats of the rummy game in India; Indian Rummy has many followers in the country. Moreover, the game enjoyed by both family and friends circles alike. Indian Rummy is a cross between the Rummy 500 and Gin rummy. The game also involves making valid sets of 13 cards which are equally distributed among all the players.
13 Card Rummy – It is also known as Indian Rummy and is believed to be an extension of Gin Rummy and Rummy 500. It is a game of 2 to 6 players in which each player is dealt 13 cards. Players have to meld the cards into valid sequences and/or sets by picking and discarding cards. The game also allows the use of Joker cards, which can be used as substitutes for any card.
Here is an example of a melded hand – 2♥ 3♥ 4♥… 7♠ 8♠ 9♠ Joker… 6♥ 6♦ 6♠… J♣ J♦ Joker. 2♥ 3♥ 4♥ is a pure sequence, 7♠ 8♠ 9♠. The 13 Card Rummy has 3 variations; namely Points Rummy, Deals Rummy, and Pool Rummy.
Gin Rummy – Gin rummy enjoys many fans following mostly in the European countries and is normally played between 2 players, both of whom receive ten cards each. However, Gin rummy is not played as Gin rummy but as a rummy variation.
500 Rummy Game – It is also called 500 rum or Pinochle Rummy. Two to eight players can play this game. In this online rummy format, the game gets over when the last card has been put down.
Deals Rummy – It is a variant of 13 card rummy. There is an entry fee for the deals. Chips are distributed equally to all the players. Each chip is assigned one point. The winner receives the sum of the entry fees deposited by all the players.
Canasta – The word which means 'basket' in Spanish is a kind of rummy game that itself has different variations depending upon the number of players. However, generally it is played by 4 players in 2 partnerships with 2 decks of cards and 4 jokers. All the 4 jokers and all the 2s are treated as wild cards. The objective for the players is to form melds with 7 cards of the same rank and 'go out' by playing all their cards. It is the only membership game of the rummy family that has acquired the status of a classic.
Oklahoma Rummy – It is a popular version of Gin Rummy and can be played by 2-4 players. It makes use of a standard deck of 52 cards, along with one randomly selected Joker. If there are 2 players, both of them get 10 cards each; if players are more, then each player gets 7 cards. The Ace holds 1 point, the face cards carry 10 points each and number cards have a value same as their number. Players have to meld their cards and as they do so, they can get rid of those cards. The player who first does away with all his/her cards is the winner.
Pool Rummy – Pool rummy is a variant of 13-card Indian rummy. It has an entry fee. Each table is assigned a point limit. The one who reaches the point first gets knocked out of the game. The winner gets zero points.
The Following are the types of rummy on the bases of cards dealt per hand:
1. 10 card rummy- Shortest game format.
2. 13 card rummy- Most commonly played format.
3. 21 card rummy
4. 27 card rummy
In Summary
There are a lot of variants of the rummy game, as players in different parts of the world kept introducing changes in it from time to time to bring out their own customized versions of the game. However, the rules of all these variations are more or less similar. And among so many of its siblings, it is 13 Card Rummy that has continued to rule the roost and is now going strong as Online Rummy. If we talk in the Indian context, 13 card rummy is the most preferred choice of the natives and they leave no opportunity to indulge in it.
Connect with Us for Trusted Portal to Play Online Rummy
Do you have any queries in your mind regarding how to play rummy? Then have a word with our team right now, call us or drop an email at [email protected] Hence, do not hesitate to connect us whenever you need help.
So open the PlayRummy app now and win big cash.