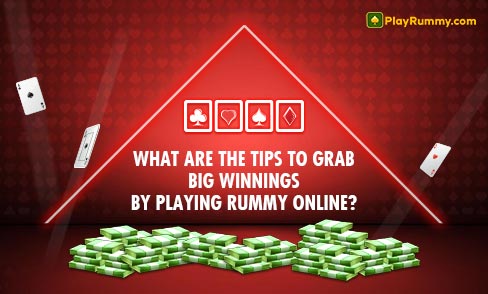 Hard work, discipline and commitment are a must-have attributes to be successful in any sphere. When the focus is on these attributes over a period of time, we come to know of certain tips and tricks of the trade which help us level up in our sphere of work. It is exactly what happens when you play rummy online.
These tips will take your style of playing rummy online a notch higher than your opponents and help you dominate the games. Here are some golden tips that can help you grab big winnings while playing the game on an online rummy app.
Take Charge: They say that well begun is half done and it's true when people who play rummy online enter rummy contests with big stakes. Rummy experts have time and again laid emphasis on the need to play boldly which means that players shouldn't be afraid to play the game on their strengths after analysing the opponents game. It's also recommended to set up your ideal hands from the beginning to easily play out the rest of the game. High-value real cash game contests usually have multiple rounds, so dominating other players on the table by scoring the least number of points is a great strategy to move up on the leaderboard. If you lead in the initial rounds, the rest of the contest can become slightly easy for you because your opponent is likely to adopt a defensive approach making the margin between you and them wider. Then all you have to do is be ruthless and go for the jugular.
Apply the Reverse Strategy: This tip has to be applied when you have to discard high value cards that you might have got. This tip could turn out to be extremely useful on the rummy table against players who are more experienced than you. Often, it's advised that when a player wants to decrease their points, they should get rid of the value cards such as face cards like jack, king and queen. If however, you have got a king and jack, you should ideally wait for two moves for your opponents to discard a queen for you. This said a player shouldn't wait for more than two rounds because that might be too late and be detrimental to your chances while playing rummy online.
Discard Cards Near to Your Wild Joker: One of the most important tip when playing rummy online is to not waste the wild joker to make a pure sequence. So, a better strategy especially, playing on an online rummy app would be to get rid of cards near value to your wild joker, unless you can use those cards in other sets or sequences.
Bait The Opponents: This tip can also help you win big when you play rummy online. Players should use this tip right after making a pure sequence. Be alert and observant when you discard cards. Keep an eye on the cards discarded by you that were picked up by other players on the table. For instance, if you have discarded a Queen of spades and your opponent picks it, you should be watchful before discarding cards closer to it like a ten of spades card.
Focus on Numbered Cards: It's a fact that in rummy the face cards puts a player at a big risk of ending up with the highest points on the rummy table. What most players however, miss out on is that these face cards do come with many permutations and combinations. It is the numbered cards like 10, 9, 8, 7,6, 5, 4, 3, and 2 which can be put in different sets and sequences.
Discarded Cards Act As Crystal Ball: After you have completed a pure sequence, a good rummy tip that can be applied would be to make moves based on the cards you see in the discarded pile. What a rummy player must do here is always pay attention to the cards the opponents are picking and discarding. This discarded pile of cards is like a crystal ball which if you watch closely can help you predict the opponent's next move.
Identical Cards Aren't Useful: While playing rummy online having identical cards isn't of much use because you can neither use them to form either a set or a sequence. These cards only add up more points on your scoreboard. Hence, it is advisable to use your cards in the beginning and discard them as soon as possible.
Just reading these tips won't be enough. You will only benefit if you apply these by playing rummy on India's most trusted online rummy app. Don't wait any more and download the app from playrummy.com and grab big winnings.