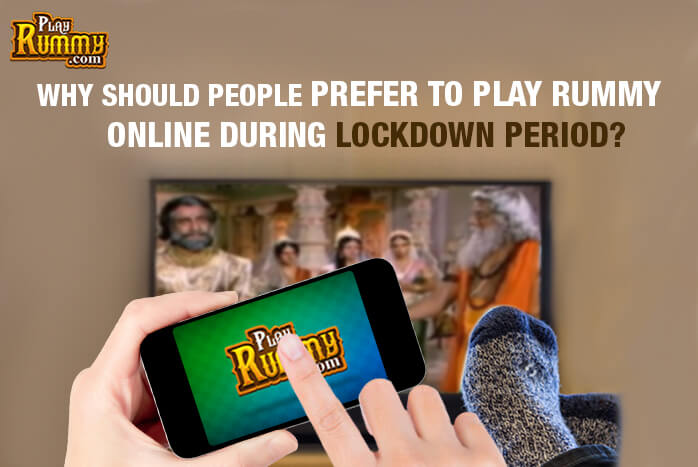 These are tough times for the entire world with almost every country fighting and taking measures to save themselves from the COVID-19 outbreak. People have resorted to different measures to keep themselves busy in these precarious times by being inside their homes. As a result online gaming platforms around the world have seen a spike in engagement level.
Rummy games are one of the most popular options to keep people occupied. Back in the day, the love for card games, especially rummy was an excuse to meet people, socialise and play but now there is a restriction on that because of the pandemic. Rummy traditionally has been a skill-based game now, however, players are increasingly preferring to play rummy online.
The rise of technology has certainly helped this trend and with fast 4G speeds, you can literally play anywhere and at any time.
Here are some reasons why players these days prefer online rummy over offline rummy:
Social Distancing: With lock downs continuing to fight against the COVID-19 pandemic one can be easily bored sitting inside their houses. Having a smartphone or a computer with a decent internet connection is all you need to take you to the world of online rummy. Playing rummy online does help people to follow the social distancing rules without going outside their home and still being engaged in a fun-filled activity with others.
Availability of co-players: For offline rummy players there are times when you might want to play a round of rummy but your friends or club members might be unavailable to give you company. Luckily, there's no such issue with online rummy. Here, someone will always be there to play at any given point of time. This is because there are a lot many players who are active at any given moment on these platforms. You can play against them from across the globe as well as learn new strategies to play the game. These days with rummy mobile apps, you can take the game along with you wherever you go. Also, players have the option to auto drop.
Wider Appeal: Online rummy appeals to players from different strata of the society and with various competitive level handling ability. Online rummy games are designed in such a manner that even a beginner can play the game easily.
Tutorials: Unlike the manual rummy, in online rummy there are tutorials available that are self-explanatory and would help how to play rummy and aspiring players to master the game quickly and become competitive.
Better Rules: Offline rummy games often lead to dispute amongst players as there is a lack of clarification in rules. However, when they play the game online, they can participate without any such hassle as the rules for online games are already well-defined and people can't tamper with them according to their whims and fancies.
Variants: Online rummy games offer different variants. This is not possible when you are playing rummy offline as every player might not know how to play a specific variant of rummy game. Regardless of the variation a player chooses, the playing experience would be unique.
Fair Play: Online rummy is the preferred option because players here don't have to worry about co-players cheating.In online rummy, the player seating is random. These platforms ensure that the seating around the table is not controlled by any player. One basic example of it would be that unlike offline rummy shuffling of cards in online rummy is automated so chances of cheating are comparatively far less. All websites and apps are well-equipped with fair play plug-ins that monitor every player and ensure no one is cheating. If someone still cheats then the individual will be removed from the platform.
Offers and Promotions: Most online rummy platforms have incredible offers and promotions on a weekly, monthly and yearly basis which players can avail and win more. A lot of websites also offer welcome bonuses for newcomers, which is an incentive worth enjoying.
Security: Most online rummy platforms are safe and transparent in terms of giving cash and making deposits. These platforms have secure payment gateways and transacting there is safe. Players might not find the same security while playing in offline rummy clubs where the disputes are far uglier.
Support: In case of any help, players can always reach the 24/7 support offered by online rummy platforms. Main support channels here include call support, chat support, and email support.
Bigger Rewards: Since the network of players in online rummy is wider and bigger, hence bigger are the rewards as well. The rewards here can be life-altering. Huge rewards for winning a tournament has been one of the reasons why players prefer to play rummy online. The wonderful news for the players is that the frequency of such massive tournaments is more such that they are bound to witness one big tournament in a month at least.
Online rummy gives you the opportunity to play endlessly with a pool of skilled players who've come to hone their skills over the years. So, if you are rummy lover, you will find just the right community to download rummy.