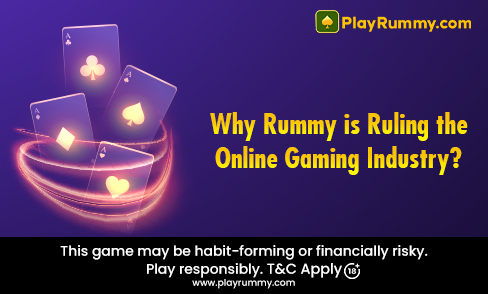 With a lot of online games today, online gaming is a full-fledged industry where newer games are making their presence felt on a regular basis. However, not many are as popular or loved as rummy online games. When it comes to online games, those who play rummy online swear by the thrill it gives them making it the undisputed king of the online gaming industry. In this blog we are going to zero down on the factors which makes playing rummy online an experience a cut above the other online games.

Takes You Back in Time: When you play rummy online it will make you nostalgic and take you back to your childhood. It is likely that it was an activity you would watch your family engage in regularly to have a great time. This is something not many other online games can do as most of them have never been played offline. To get those happy nostalgic juices flowing, you should play rummy online.
Easy to Learn: Playing rummy online is very similar to playing it offline since the rummy game rules are the same. It's easy to understand them. What works for this game is that most platforms that promote rummy online have also ensured that everything is exactly like offline rummy. Over the past couple of decades rummy players in India have liked this sync of offline and online rummy and it has certainly helped in many offline rummy players playing the game online on their phones, personal computers, laptops and tablets thereby increasing its overall popularity and making it the go-to option in terms of online games.
Flexibility to Play: To play rummy online you don't need to be dependent on others to play the game. A game like Octro rummy gives players the flexibility and freedom to play the game anytime, anywhere as there are millions of players around the world playing this rummy online 24X7 on the most trusted rummy app. As a player now you just have to choose a good rummy platform like this one and the rest is taken care of by the gaming app.
Big Cash Rewards: When you play rummy online you can win from bigger prize pools which isn't the case even with other online games. What most rummy platforms offer is the facility to transfer your winnings directly into your bank account. This makes it even more enjoyable for the players which isn't always the case with a lot of other online games. Apart from this there are great offers and in-app benefits as well which many online rummy platforms like the Octro rummy give to its users.
Stress Buster: A highly underrated factor why rummy online games became so popular from the time it came into existence is because the game does keep you entertained and can reduce stress like not many other online games can. For instance, playing an Octro rummy game can divert a person's attention from all the stress and negativity in no time at all. This rummy card game can keep people busy but at the same time still make you feel relaxed. So, if ever you feel mentally exhausted and are looking to unwind, play rummy online on India's most trusted rummy app.
Health Benefits: Playing rummy online also has health benefits. It can help your brain react in a positive way unlike a lot of games which might have a negative impact on the brain. Playing rummy improves your decision-making ability, helps you concentrate for longer periods and makes your hand-eye coordination better. Better concentration level can also make a person better at multitasking and increase their problem-solving abilities. So it is another reason to play this online game.
Makes You More Competitive: Many people play rummy online because they want fun and entertainment. Both fun and entertainment increase once players experience the thrill of winning a game. Once players start winning more, they want to make it a habit and this makes them much more competitive not only while playing but in other aspects of life as well. This results in them working on their rummy gaming skills more and that ultimately results in winning amazing rewards as well.
Promotes Out of The Box Thinking: To excel when you play online rummy players often requires people to see problems from different angles and finding out of the box yet effective solutions. Doing this regularly trains the brain subconsciously to think out of the box thereby boosting your creativity. Other genres of online games.