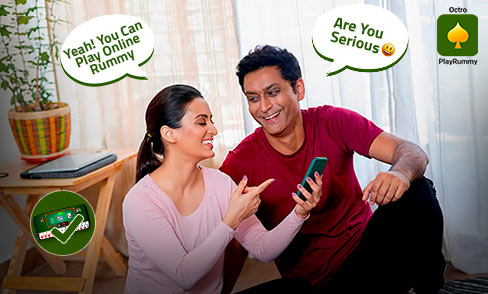 You must be wondering about the headline of this blog and thinking that it is only for people who are married. We agree, while the headline suggests so, but even if you aren't married the principles mentioned in this blog will also apply if you have a girlfriend or a sibling sister who lives with you and even your mother. Most of us would have heard stories about the people we know that their wife doesn't approve of them playing the rummy game. If you know such people or are yourself one of those then this blog will offer a solution to the issues of female partners not approving of you playing rummy.
Yes, your wife will never object or stop you from playing online rummy game. Below are some of the reasons why we say so.
You will always be at home:
The reason behind most female partners objecting to their male partners being a rummy player is because usually men play the rummy game with their friends and this is done outside their homes. In online rummy you can enjoy playing the Indian rummy game from the comfort of your home. You are always in front of your wife's eyes while enjoying your favourite game on one of the best rummy apps.
Great Offers to Avail:
Most females are very good at bargaining. They love offers, cash back, freebies and when you tell them that by playing rummy on one of the best rummy apps you will be getting plenty of offers and freebies they will never stop you from playing the game. It's a suggestion, do this: open the PlayRummy app and show them the kind of benefits you will get here and they will instantly approve of you playing rummy on this app.
A Lot of Me Time:
Earlier when you were home you would be demanding your female partner to cook something and most of their day is spent being your personal chef. However, when you will be engrossed in playing online rummy your wife will have plenty of time to do what they like rather than just cooking meals for you.
Spend Winnings on Gifts:
Every woman wants to feel special and by showing your skill in online rummy you can get big real cash rewards. These cash rewards can easily be transferred to your bank account directly if you are playing on Octro PlayRummy. You can spend the amount won by giving gifts to your wife or buying any other stuff you want. If you do this, we are sure you will never stop you from playing online rummy.
Females Love Intelligence:
Rummy is a game of skills and it boosts your analytical and strategic thinking. When you play online rummy on a regular basis it will improve your analytical and strategic powers as well which will help you in other aspects of life. Having an intelligent partner will be a big turn on for your wife and she will always encourage you to keep playing rummy if it helps in this regard.
Safe & Secure Money App:
Unlike playing offline rummy which most females are wary of as their partners can be cheated by other players, in online rummy they feel more assured about the safety and security of the platform. A platform like ours is the best rummy app when it comes to safety and security of the transactions that take place during the process of playing the game. It's a RNG Certified card game app.
Responsible Gaming:
Good online rummy apps abide by the TORF (The Online Rummy Federation) rules and promote responsible gaming. This is an aspect that encourages females to not stop them from playing online rummy. For instance, if you play on the PlayRummy app your daily deposit limit will be fixed so that you can't overspend. This is specifically done to protect you from big losses and playing irresponsibly.
You Enjoyment Will Be Infectious:
The kind of fun people have while playing rummy online is infectious. Watching you play, others are also likely to join in. The same is true for your wives or other female members in your family as well. When they see you having a great time while playing rummy not only will they not stop you but will also ask you how they can play as well? It is at this moment that you should show them the fantastic Rummy offers and different rummy variants that are there on the PlayRummy app. If they play it once they will be hooked to it for life.
Conclusion:
Now that you know the aspects which can convince your wife to never stop you from playing online rummy by knowing the proper rummy guidelines. It is time to download rummy app and start showing her the benefits and keep playing your favorite game.