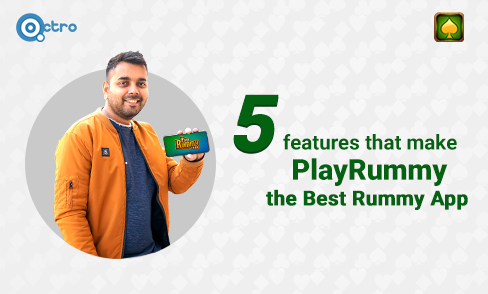 Online gaming industry is a competitive one; be it for the makers or for the players. It is the providers who make players' experience a good one if they manage to come out with a great product. Let's take the example of online rummy game PlayRummy where you can play real cash rummy on this rummy app. This app is miles ahead of its competition and following are the reasons why they are the best in rummy players opinion.
Accessibility: The first key factor for an online rummy game to be successful is how easily accessible or available it is for the user. The app fulfils this criterion both android and IOS users can download the app free of cost from playrummy.com. All that needs to be done is visiting the website and clicking on the download button. The process completes in seconds to give you an amazing experience.
Great Interface: Anyone who has played online games would vouch for the fact that playing these games on apps is far better than on the website. This is the reason why online rummy players also prefer playing the game on app because they are faster than websites. Rummy requires immense concentration for players to win and any distraction can be a hindrance in the process. On this front well the rummy app gets full-marks.
Keeps You Abreast: This app also keeps the players up to date with the latest offer, rewards and promotions. All one has to do is open the app and its easily navigable interface will keep you informed about these. It's as simple as that when you have the latest information about the game it helps you be ahead of the competition. Players now can easily get notified on all exciting rummy tournaments with amazing cash rewards.
Compete Against the Best: Rummy is a highly competitive game where no one wants to give even an inch to the competitor and hence the best online rummy players chose to play the game on this Rummy App. This is why if you consider yourself as someone who is good at the game or wants to be good at it, play the real cash rummy on the app. You will not only have an enjoyable experience but also learn to make your game better from some of the best in the game.
Personalised Experience: Some of the best online rummy players vouch for the PlayRummy app experience. The app has provided them with a great personalized gaming experience. Here they can choose from all a variety of rummy options and play the game that they like.
With all these great features at your disposal, you know playing rummy here would be fun-filled.