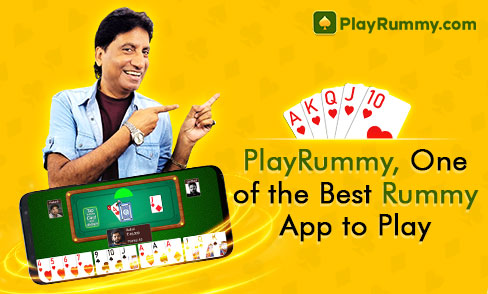 Rummy card games were always popular but the popularity has increased many folds since the advent of online rummy. While there are many online rummy apps but none we believe are better than Octro PlayRummy. This isn't just a fake brag. Some of the features that we will cover in this blog will convince you that what we are saying is true. All you will have to do is download this rummy app and we will prove why this rummy app is the favorite of so many rummy players. Let's start:
Design: This online rummy app has all the necessary features to make a player's gaming experience enjoyable. Playing on this app, rummy players can easily navigate between a variety of options which in turn helps deposit and withdrawal procedures a smooth one for them. This game has taken every measure ensuring a friendly and simple user interface along with spectacular graphics will provide them a fascinating experience.
Complete Knowledge: Without knowledge you can't expect to go far in life or in rummy. This rummy app game where real cash gaming is done provides easy, detailed yet self-explanatory tutorials even for the beginners. Anyone can download the rummy app and easily go through these tutorials. That's not all, even after downloading this rummy app if a player faces any issues in understanding the game, the game's makers Octro has a full-fledged support team that will address the player's concern over email or a phone call so that they have the best gaming experience. Also, this rummy app's features are designed in such a way that it will continue to check with the user if they have understood the tutorial completely. If not, they can go through it as many times as they want before they have a good grasp of the basics.
Amazing Rewards: Rewards play a huge part in a player's motivation to play a game. These rewards could be material or immaterial. For some a reward could be having fun while playing a game but usually for rummy players it is the money that they can win if things fall in place. Even after a player goes through the tutorial, rummy as a game requires immense dedication and practice to master. The more one plays the better one gets at it. A rummy game might take considerable time to complete. However, if one has to master such patience, they need some incentives to keep at it, and these incentives come in the form of rewards and prizes. This is one such platform where players can win good amounts of cash rewards depending on the type of rummy table they choose to play on.
Utmost Fair Play: When rummy players know that the rewards in terms of real cash are very good playing on this rummy app, some try to take advantage by using unfair means. Since this might lead to various acts of frauds on PlayRummy there is a zero-tolerance policy towards fraud and cheating. If any player registers a complaint with the platform about unfair play, a dedicated team promptly looks into the matter and conducts a fair investigation. After the investigation is complete and if it's found that a fraud was committed it leads to strict action against the players who committed it. Not only this, it's also ensured that the victim's loss is properly compensated. These frauds could range from the shuffling of cards or ensuring that a player gets to play on a particular table. On this rummy app, the seating is random ensuring that the game on the table is not controlled by any one player. The shuffling of cards here is automated as well, hence chances of cheating are comparatively much less. The app is well-equipped with fair play plug-ins that monitor every player and ensure the game play is clean.
Prompt Support: Despite taking all the necessary measures in making it a great rummy app to play, if a player still faces any game related issues, the platform does have an extremely competent support desk. The customer support team here handles every issue and resolves it quickly. This support is available on email as well as on call to all the rummy players on the platform. The player support executives provide timely advice keeping players' interest on top. This is one of the major reasons why this rummy app has become the most trusted platform to play rummy.
Conclusion: All the above points are good enough reasons to download this rummy app and play. So, what are you waiting for? Start playing your favourite rummy game and win big cash rewards.