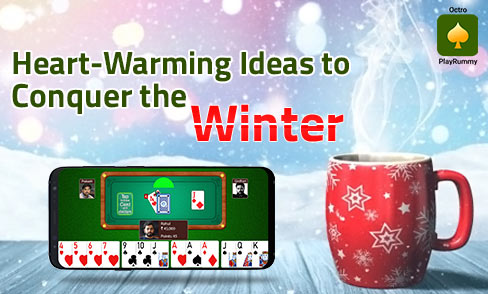 The winter season is here and so are the winter blues specially because of the restrictions that have been imposed because of the ongoing pandemic. There was a time a couple of years ago when all of us had so many more options to beat the winter blues but unfortunately, it's not the case anymore. However, making the most of the resources that we have some heart-warming ideas which can help you conquer your winter blues. So, snuggle up and have a read.
Play Rummy Game Online:
When neither the weather nor the virus lets you go outside your house this has to be the best option to stay warm and have fun inside your home. All you gotta do is download the Octro PlayRummy app on your phone and play the game with millions of players all round the world and win huge cash rewards. There is more, on this rummy app you will have plenty of rummy tournaments to take part in and different rummy modes which you can explore to have a great time at home.
Exercise and Yoga:
While the pandemic and winter might be a valid excuse for you not going out but want you should never make an excuse for exercising. Even inside the four walls of your room you can do some skipping, yoga and stretching just to feel fresh and healthy. Doing a little bit of work out on a regular basis is a great way to kick away the winter blues and stay in shape. After all, someday when the pandemic is over you will get that much needed vacation on the beach where you can flaunt your chiseled body but for that work needs to keep happening.
Soak In the Winter Sun:
While the Sun isn't generous enough during winter especially in the North of India but whenever it's out, make sure to enjoy it. Sit in the balcony or on your terrace and have some fresh fruits. You can also enjoy your favorite online card game with family members and friends. Both will help you deal with the usually gloomy weather.
Make Yourself Some Coffee:
Nothing beats the cold like a hot cuppa. Don't just keep sitting in your room. Take a walk till your kitchen, grind those coffee beans and make some coffee to sip. We guarantee the effort you put in here will be directly proportional to how quickly you conquer those winter blues. Okay, if you are the really big lazy type then just order a cup from your favourite coffee shop.
Call Your Love Ones:
With video calls it's great that now you can even see your friends and family even when you can't be physically together so pick up your phone and ring them. It will instantly brighten your mood.
Barbeque The Blues:
Yeah, we mean it literally. Marinate the paneer or meat chunks and put them on the grill. In a few minutes Not only will you have delicious healthy food to eat but also the heat of the barbeque will keep the surroundings warm. This two in one benefit is a sure shot hit in the winters. Don't believe us? Try it once and you won't regret it.
Music Helps:
You must have prepared a list of favourite songs, if not make one now and play them whenever you feel a little dull. It's scientifically proven that music has a calming effect. On gloomy winter days when most things seem hopeless music will brighten up your mood and warm your heart.
Binge Watch on TV:
Most of us love watching movies but because of the pandemic related restrictions there aren't many options to watching them in multiplexes. It is here that the OTT platforms come to your rescue. Winters give you the perfect excuse to be a couch potato and watch the series or movie that has been on your mind for a long time now. It will help take your mind away from the gloomy weather outside and relax you. There are some list that are all time favorite movie to a rummy players and also liked by playing card lovers.
Read A Book:
The cold weather is also a great weather to just lie down in your bed and put the reading lamp on. Reading a good book is something that will never go out of fashion because of how it can instantly change your gloomy mood and transport you into another world. So, pick up your favourite book and complete it.
Jot Down Your Thoughts:
Before going to sleep it would be great if you can write down your thoughts and the things you did during the day. Not only will it prepare you well for the day ahead, it will also bring a smile to your face when you read the same page sometime in the future. Maintaining a diary will make you more organised and it surely is a heart-warming activity irrespective of the season.
Try all these ideas or any of the ones you like to make these winters a happy one.