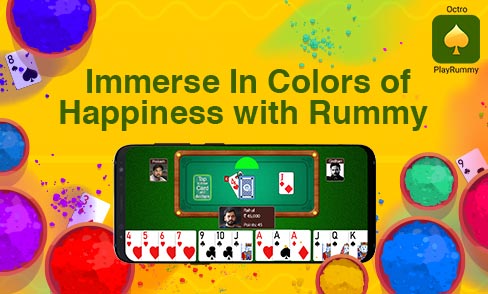 Holi is here and we wish that not only you celebrate this festival with colors but also with lots of cash rewards by playing online rummy tournaments. On Octro PlayRummy which is considered India's most trusted rummy app all the people who are passionate about this card game can celebrate Holi by taking part in various Holi special rummy tournaments. These tourneys are already on. So, let's explain the steps that you need to follow to take part in these rummy tournaments and win big rewards.
Download The App: First this first to take part in these exciting rummy tournaments you will have to download the Octro PlayRummy app. This app can be downloaded for free on both Android and IOS devices.
Read The Rules: The next step to play these rummy tournaments is to go through the rules of the game thoroughly. These rummy rules would also tell you the amount of prize money you can win by taking in these rummy tourneys. You will also come to know if you have to pay any entry fee to play or if you can play these rummy tournaments for free.
Choose Your Tourney: This week because of Holi there are lots of rummy tournaments for players to choose from. There are regular tourneys every day of the week which are classified as Tempting 10, Fantastic 5, Drive 25 and Witty 50. To take part in these you will have to register for the one you want to or even all of them then play at designated time which will be mentioned in the tourney details on the app. Then the next rummy tournament in the list is the Big Boss Tourney, here the prize pool is of Rs 10,000. On March 18, 2022 which is the day when Holi will be celebrated this year you can take part in the Holi Special Tourney. The cash rewards in this are huge as well.
Book Your Spot: All the rummy tournaments mentioned above come with limited spots to play and if you want to take part in any of these or all you will have to register yourself in time to grab a spot.
So, what are you waiting for? Right now download the best rummy app for free and immerse yourself in colors of happiness with rummy. We wish you a rewarding Holi!