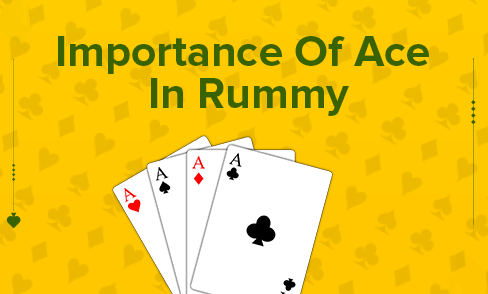 If you know how to play rummy be it playing online or offline you would also know that it is a 13 card game where sets and sequences need to be formed by the players. The players who are able to complete this first and declare, win the game. While there are thirteen cards that each player is dealt with, it is the Ace card which is the strongest. We aren't talking about the Joker card here because it's a wild card while it is a regular card but carries the highest points.
The various kinds of roles an Ace card plays in a rummy game is very different hence all players need to have clarity on how they can use this card while playing online rummy.
A rummy player may come across certain situations in the game when he may have four aces during a 52-card deck game and 8 aces are used during two 52-card decks. When there are four aces each one belongs to one suit being spades, diamonds, hearts and clubs. The questions that come to mind is if the ace is a low or a high-value card? Whether a player should get rid of those cards or keep them in the hand to form the sequences or sets? Resolve all these queries as we research more to explore the importance of Ace in rummy games.
Ace's Double Role on Deck
The value of ace in rummy is constant – 10 points for each of the four or eight ace cards depending on the deck. From that point of view it's a high value face card, with equal points as for the other three face cards (J, Q and K). It can, however, perform a double role forming sequences by acting as a low or high card as per the online rummy ace rules. For example, an ace can be a replacement for '1' and help a player form a sequence like A, 2, and 3. At the same time, it can act as the highest card (one rank above the king card) and enable a player to form a sequence like Q, K, and A. Thus, by performing this double role with different cards (low value cards and high value cards), the ace can play an important role as part of your winning strategies in the game.
There are some games where there is a special 'round the table' or 'round the corner' rule which let ace cards be used in forming a sequence such as K, A, and 2. This, however, is subject to the rummy tables where the game is being played. Usually, the score is decided for such a scenario before the game begins. This rule being a rare one isn't applicable in most rummy games.
More Chances Of Getting A High-Value Ace Card
A common rummy strategy implemented by many online rummy players is to get rid of their high-value cards early in the game to reduce points and tackle the possibility of an opponent winning the game. Since the ace carries 10 points, you as a player are likely to face certain greenhorn or less experienced rummy players, who might look to get rid of the face cards they have, including the ace. So, your chances of getting an ace card from the cards discarded is little more.
You might be of the point of view that picking a card from the discarded pile isn't the best move as the opponents might keep track of the same and try to hold cards that can help you complete your sequence. With an ace card, however, even the opponents are likely to a little confused to identify the correct sequence that you might be hoping to form – be it A, 2, and 3 or Q, K, and A. Hence, picking up an ace card from the cards that have been discarded might turn out to be a good move.
A Sequence's Last Card
The ace card is presumably the lone card in a rummy game which can shape an arrangement with the low worth cards like 2, 3, and 4 or with the high-value ones like J, Q, and K. Furthermore, the benefit you get is that it is the last card (or the first one) of both these potential sequences. In this way, while you may persistently hope that an ace card will show up from the draw heap or the disposed of heap, you have alternatives open for both of these two arrangements getting made without an ace. For instance, consider you're having 2 and 3 cards or Q and K cards, and you wind up getting a 4 or J, at that point, you still figure out how to finish your arrangement without the ace. It's anything but a middle card for any of these sequences that can preclude different prospects of making a sequence.
Conclusion
While the joker card is a popular solution to form sets and sequences in rummy, there is no doubt that after joker, the ace is the card that can possibly increase your chances to win a game with many options of forming sequences. So Download Rummy App Now & Enjoy Most Played Money Game Toady!