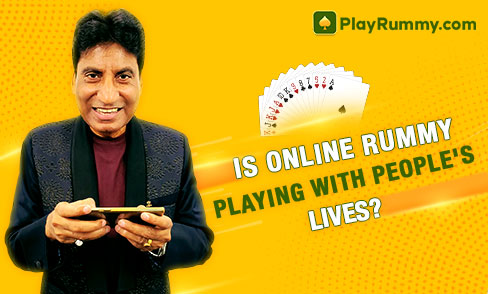 Rummy is a game which has been loved by both masses and classes. People's love for it has grown even more ever since various gaming studios came up with their rummy apps where people can play the game online and win lots of real cash. Like most things in life, rummy too has it's pros and cons but if you look at this blog's topic we will discuss a very important aspect about if this game can play with people's lives.
The Good: Playing on an online best rummy app can keep you entertained. Here you can have a lot of fun playing your favorite card game with people from around the world and at a time that suits you and matches your schedule. This is not all, the kind of cash rewards you can win in online rummy is second to none. A lot of people play this game on one of the most trusted rummy apps which is Octro PlayRummy and win so much cash that it is a kind of second source of income for them. With this cash they have travelled the world, bought things that they have always wanted and even donated it for charity in order to help others.
The Bad: Like most other things, online rummy too has its cons. These include some reported instances of cheating and fraud but the worst is when people over indulge in playing this game and become addicted to it. This over-indulgence sometimes results in cash loss. It is for this reason why for the past few years there has been a debate if a real money game like online rummy is a game of skill or luck. Those in favour of the game have been trying to convince the authorities concerned that it is a game of skill while those against it vehemently oppose it by calling it a game which is dependent on the luck factor. Though off-late most state governments either themselves or after the intervention of judiciary have regarded rummy as a game of skill. There have however been some instances over the years where individuals have blamed rummy game makers for the losses they might have suffered because of the game. Some have even gone to the extent of alleging that it was because of a particular gaming studio they lost their money and ruined their lives. Some people have alleged that their friends or family members have committed suicide as they were unable to handle the stress that they might have suffered after losing money by playing online rummy.
The Measures: The good aspects and the not so good ones are a reality when it comes to online rummy or for that matter any of the real money games that are there. In order to improve the experience of rummy players. A platform like Octro PlayRummy, has always kept responsible gaming as their main objective. Under responsible gaming comes the measures that the platform has taken so that players don't over indulge playing rummy on this app. The app has fixed a limit beyond which no player can make a deposit to play. This is a great step because it prevents players from spending over and above what they might not afford when it comes to playing this card game. The platform through its customer support team regularly engages with rummy players on guiding them to play the game responsibly and never chase losses if they suffer any. In fact, if you are a rummy player on this platform you can reach out to the customer support team through email or over a call and discuss anything regarding responsible gameplay. When it comes to its marketing campaigns the platform has been strictly adhering to the rules made by the Advertising Standards Council of India (ASCI). The body in the year 2021 came up with a rule which said that all online gaming platforms which are into real money games (RMG) should in all their advertisements write a line which reads, "Play responsibly and at your own risk. The games involve an element of financial risk and may be addictive."
This is something a lot of online rummy players have liked as it informs them that they have to keep a watch on their playing pattern and not over indulge because excess of anything is bad.
Conclusion: With the measures that most of the reputed online rummy apps are now taking to promote responsible gaming, it wouldn't be wrong to say that online rummy isn't playing with people's lives. If a player practices self-control then a simple game like rummy can't be so powerful that it can ruin their lives. In fact, rummy is a game to have fun while displaying your skills. If you agree with what we have said in this blog do try playing on Octro PlayRummy which is India's most trusted rummy app.