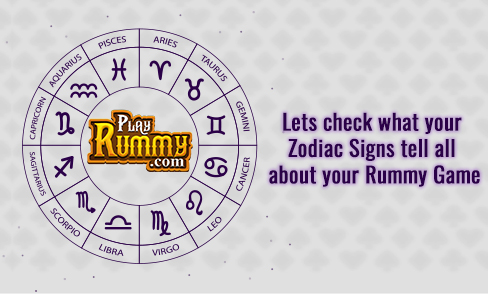 Those who have learned how to play rummy and especially, online rummy, know that it is a game of skill but if you are one of those who believe that is totally dependent on luck then let's clear this in the beginning that it's not the correct approach. However, your Zodiac sign can tell your approach towards the game. So, before you click the download rummy button have a read.
Aries (March 21 – April 19)
Ruling character traits of Aries people are energetic, brave and committed. A natural leader when it comes to playing rummy, they go all-out in pursuit of the win and never back away from helping others as well.
Taurus (April 20 – May 20)
People born under this sign are humble and measured in their approach which leads them to make wise decisions. They are also ambitious and like materialistic possessions. Hence such people usually play rummy for fun rather than only for money.
Gemini (May 21 – June 20)
Geminis can talk and you bet they can talk a lot. Always ready to learn new things, fond of adventure, these are people with a good sense of logic and that can be a real asset on a rummy table. So next time you see a person who is all chatty on an online rummy table and still playing his cards well you can assume him to be a Gemini.
Cancer (June 21 – July 22)
These are family oriented, emotional people. They tend to take a low-risk approach in life so as to not be hurt by it or put their family in kind of trouble because of their acts. Hence, even on a rummy table you can see them usually have cautious approach but if things get out of control it can easily take the game away from them. It is this people of this sign that can also be sometimes seen chasing their losses on a rummy table.
Leo (July 23 – August 22)
If you are looking for a good teacher of the rummy game approach a Leo player. This is because the primary character traits of Leos are organised, responsible and considerate to share their knowledge with others. They are also hardworking people so trust them to master the game and also make good comebacks.
Virgo (August 23 – September 22)
Arguably one of the best Zodiac signs when it comes to playing rummy. Virgos are smart, have a logical approach in most cases, have the temperament to take calculated risks making them well suited for a game like rummy. They are also very tenacious in their approach towards everything, a quality that actually helps them master the game.
Libra (September 23 – October 22)
Libra which have a weighing scale picture going with their name are people who have a balanced approach towards most things in life and can take calculated risks. People belonging to this Zodiac sign clearly know what responsible gaming and hence hardly take over the top risks. They are also helpful towards other players who could benefit from their approach.
Scorpio (October 23 – November 21)
People of this zodiac sign have a win at all cost approach and this is the reason that can prompt scorpions to take extreme risks in order to win big. They sometimes even don't care about the consequences and play with all their heart. Since they are ambitious people you can be sure that there will be plenty of excitement when they are sitting on a rummy table with their go big or go home approach.
Sagittarius (November 22 – December 21)
Sometimes people can wonder if rummy is even a game for people that belong to this zodiac sign because they can be reckless in terms of their attention span. This absent-minded approach can cost them dearly in a game like rummy but because they also have a creative bent of mind these players can make comebacks.
Capricorn (December 22 – January 19)
Like Virgos, Capricorns too have a good approach in rummy because they are motivated and balanced individuals. If you are playing rummy with a Capricorn, rest assured to have fun. They are also good at teaching the game if you want to learn.
Aquarius (January 20 – February 18)
These are people with big hearts and a certain sixth sense. Which makes them take risks and predict the moves of their opponents. They can also be effective rummy teachers.
Pisces (February 19 – March 20)
Pisces are committed people with a lot of energy which can make them spend long duration on a rummy table. This is the sign that can have a lot of ups and downs because of their judgmental errors and emotional approach in the game.