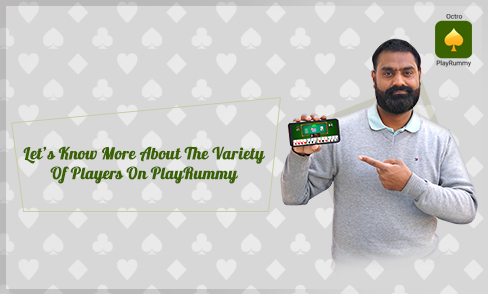 Rummy is a fascinating game, especially, if you are playing online rummy. The reason behind that claim is that when you play rummy games online you can find a lot of different kinds of online rummy players any given time. While all those people who would be on the online rummy table as your opponent and would have different characteristics that would be not known to you but majorly all the rummy players fall in some specified categories. Most players who are on online rummy platforms are there to win cash but their playing pattern and style would differ making them a specific kind of player.
If you pay attention to those playing patterns and styles you can actually assess how a particular online rummy player would play the game. Hence, it is imperative to know the different kinds of players you will find on the rummy app, which is the most trusted online rummy app.
The Nervous Newbies
These are the players you often encounter while playing rummy online. One of their key characteristics is that they are nervous and hence can be mostly seen playing in freeroll tournaments and low-value tables. There is also another type of rummy player who is known as a Noob. These are also new kids on the block but are playing for the sake of trying something new.
The Intelligent Brigade
When you step into the world of online rummy you would find many online rummy players even those who play free rummy games as intelligent ones. How you could say that a particular player is intelligent is when you notice that they don't take un-calculated risks. These players never play their hand unless it contains a pure sequence and a set or sequence. Also, these players continuously keep a watch on their points and odds of winning. They sometimes also drop mid-game if they don't, they have great cards. One should always be careful when playing against this category as the hands they play are more probable to finish first.
Avid Online Gamers
An avid online gamer is always on the look-out for a good opponent. There are enough of this kind on online rummy platforms as well. If you download the PlayRummy app, which is India's best online rummy gaming platform you will understand the level of competition in the online rummy. Online gamers are further drawn in by the fact that you can play the game anytime and anywhere. Avid online gamers really enjoy the thrill that online rummy provides.
The Perfectionist Tribe
With every game of online rummy that players play they get better at it. It is this pursuit of getting better with every game is what makes an online rummy player a perfectionist. Since rummy is a game of skill perfectionists are drawn towards it and they aren't the ones that like to give up till they master the game. It is an online rummy which gives these perfectionists a chance to show their true game metal playing against some of the best in the business. So, if you are a rummy lover, especially an online rummy lover you will find just the right players to play against on PlayRummy.
The Thrill Seekers
If you played online rummy, you already know and if you haven't played it till now be rest assured that the game's so engaging that it will keep you on the edge of your seat. This is the reason there are players who only play this regularly to experience that thrill. Every move has to be carefully calculated. Sometimes despite your best calculations, it might be difficult to win the game and that's where this game will keep making you better and pushing your skill limits. Even those who seek thrill will have to play the game with a calm head because only then can they apply their strategies to achieve the best results.
The Variety Cravers
There are the online rummy players who get bored with one style or pattern of gaming. Hence for them, on PlayRummy there are various tournaments that can satisfy their craving for variety. If you are one of these players then after you download the rummy app you can choose from the various options and enjoy the game.