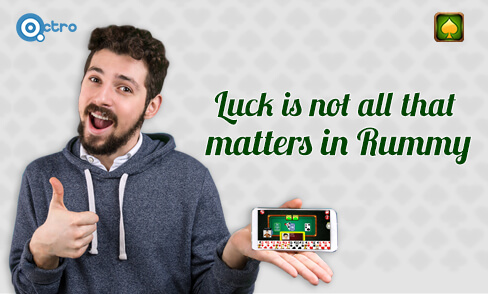 If you have played a card game like rummy you would have come across this at some point of time that one has to be 'lucky' to win. The reality, however, is not that and luck's certainly not all that matters in rummy. The fact is that rummy is a game of skill and if a player is not good at that, then luck alone can't take them far. So, if it's not luck what are the factors that actually matter in rummy? If you play the game on the best rummy app – PlayRummy you will find that below are some of the most important aspects that help you excel in rummy.
Know the Rules: To become good at playing rummy online it's must to know the rules. It doesn't just mean that you just read the rule-book but also apply those to your game. To master them, a player should always play the beginners level first so that they get a better grasp of the game and gradually move ahead.
Card Arrangement: Always arrange your cards properly because it will save your time in crunch situations. A proper arrangement of cards can take a player ahead. Always alternate the color of the cards to avoid confusion. The arrangement could be in a red-black-red color order or black-red-black combination to minimize confusion and avoid discarding any vital card by accident.
Watch Your Opponent: It's the bottom line, because, it's them vs you after all. Keeping a close watch on your opponent's game is something that a rummy player needs at all times during the game. Keeping a close track of the cards your opponent picks or discards from the open deck or hand will help you to know which cards are to be hoarded and discarded by you.
Watch Others Play: It is advisable that a rummy player must watch a lot of players who are better than him play. That way, they would absorb some of their tricks and strategies in their game. This can be done by watching live games or even watching online videos of some good rummy players and learning their moves. This could also come in handy in case faced with a similar scenario.
Learn to Bluff: Yes, that's needed in this game and a rummy player needs to know how to do this. It's not luck but how much a player can bluff their opponent in discarding the cards they need is what will determine them having the upper-hand. An example of bluffing or tricking your opponent to commit a mistake could be like you want to make a set of three 10s and you presently have a 10 of spade and heart along with a 9 of club, discarding the 9 of club might lead the opponent to believe that they can discard 10 of club and thereby help you to complete your set.
Since, now we know all these factors, it can be concluded that luck's not all that matters in rummy.