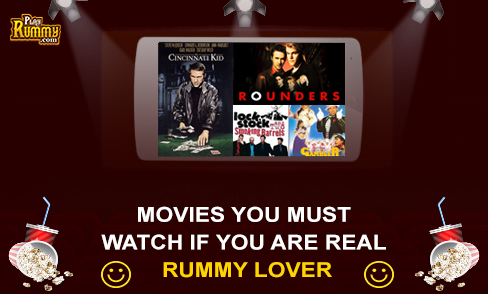 Most of us like movies and we usually enjoy those ones that we can relate to more. For example, if someone likes a personality or a particular sport or any other subject they would like to watch a movie on that subject. Similarly, if you are someone who likes a online rummy games then we have made a list of movies from Bollywood and Hollywood that you will really enjoy. Though this piece could have certain spoilers about those movies.
The Cincinnati Kid: 
It is a classic. This Hollywood movie which was released in 1965 sets a standard of movies based on card games. The plot revolves completely around "The Kid" who's trying to make his name in the world of cards. There aren't that many plot twists in this one but the intriguing factor is its ability to captivate the audience with its linear and enticing storyline. The hard work which the protagonist has to put into becoming good at playing cards are clearly highlighted in this masterpiece. Playing card games like online rummy games have always been regarded as completely luck based but that's not the case; there is a lot of skill required which can be observed in one of the iconic scenes of this movie where it is about a 30-hour long card game, that level of patience is just unbelievable.
Gambler: 
This Hindi movie released in 1971 and its songs are still loved. Starring late acting legend Dev Anand, the movie's plot revolves around the protagonist, named Raja, played by Anand. Raja who is abandoned by his mother when he was young is brought up under the tutelage of a 'Master' criminal, from whom he learns everything there is to learn about card games. Soon, he feels confident on his own and leaves his 'Master'. From here on, Raja's journey is a twist and turn of events which makes this movie a gripping one to watch.
Lock, Stock, and Two Smoking Barrels: 
This movie which was released in 1998 is a crime comedy. With many interesting elements the storyline starts with a twist in a card game where the four friends get agitated while they end up owing money. How they tackle the situation with loan sharks and gangsters by mixing up things makes this one a must watch on your screens. The plot and the acting won't disappoint you.
Rounders: 
This one also released in 1998 and became a cult winning many accolades around the world from critics. Its casts include the likes of Matt Damon and Edward Norton. Rounders is a great watch if you are a rummy game lover. It is an American drama about the underground world of high-stakes poker. It follows two friends who need to win at high-stakes poker to quickly pay off a large debt. The term "rounder" here refers to a person traveling around from one city to another seeking high-stakes card games. Don't miss out on this one.
Ocean's Eleven:
If you are into card games like rummy and like crime thrillers, then this also one won't disappoint you. A remake of Rat Pack, Ocean's Eleven released in 2001. The entire cast did an amazing job on screen. The movie title was given from the lead role "Mr. Danny Ocean" who takes serious help from 11 people to gain knowledge on poker.
Casino Royale:
If you love online rummy or any other card game this is another must watch. From the James Bond franchise it was released in 2006. Imagine an international spy with his license to kill and money to spend in a casino playing a high stakes tournament? It revolves around a high profile game organized by the antagonist by the means of which he tries to rebirth the fortune 007 destroyed. Bond dodges past all the obstacles that come his way and manages to accomplish his mission. There's a lot of action and drama that occurs in between which makes this movie one of the all-time favorites in both the James Bond movie series and movies which rummy lovers like.
21:
This American heist drama directed by Robert Luketic hit the movie theatres in 2008. Inspired by a true story of the MIT Blackjack Team, recorded in Ben Mezrich's best-selling book, Bring Down The House. The movie stars Jim Sturgess, Kevin Spacey, Laurence Fishburne, Kate Bosworth, Liza Lapira, Jacob Pitts, Aaron Yoo, and Kieu Chinh in lead roles. It follows MIT Math major Ben Campbell's (Jim Sturgess) struggle to pay the $300,000 fee to Harvard Medical School and MIT Professor Micky Rosa (Kevin Spacey) who can help solve the problem with his equation. A team of six MIT students is made who are trained to become experts in card counting and subsequently take Vegas casinos by storm for millions in winnings.
If you love card games like rummy, join PlayRummy to play many variations of the rummy card game and much more. Get our rummy app today!