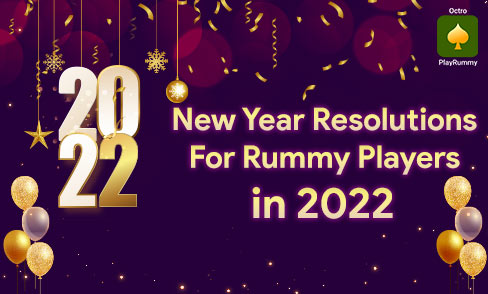 Octro PlayRummy Family wishing all our readers and players a Happy New Year. At the beginning of every year a lot of us make new resolutions about things that we want to achieve or tasks we want to do. However, only a small percentage of us are able to fulfill those resolutions because either we lack the will or the discipline to do that task on a consistent basis.
It's no different for rummy players as well. While all Indian rummy players want to win lots of big rewards by playing the game, not many are willing to put in the hard yards when it comes to taking certain steps on improving their strategies.
Here are some new year resolutions that every rummy player should make if they want to keep doing well in the game.
Know the Rules: There are many online rummy platforms that are available for the players to show their skills on. Most players make the mistake of not going through the rummy rules of a particular platform that they are going to play rummy on. Many assume that the rules of every platform are similar which isn't always the case. For instance, certain rules to play rummy on the Octro PlayRummy app are slightly different to that of other apps. Hence every player should make it his/her new year resolution to thoroughly go through the how to play rummy game they are about to play. It will help them know the platform better.
Practice: It doesn't matter even if you are one of the best online rummy players in the country, you should still try to improve your rummy game by practicing it. Most players make this mistake of taking this game casually and not working on their skill especially after they win a few games. This isn't the correct approach. Practice is very important if you want to win consistently. Hence, one resolution that rummy players should make for 2022 is that they take out half an hour from their day and play games on low stakes tables to hone their skills. It will prepare them better for bigger rummy  tables and tourneys.
Try New Modes: Most rummy players are good at a few modes and are satisfied doing well in those. However, if you want to raise your game as a rummy player the motive should be to play different rummy variants. For instance, there are different modes on the Octro PlayRummy app, as a player you should try playing and mastering all of those because only then can you optimise your potential as a rummy player. It will help you take part in all contests on the app and not just one or two. So, add this to your new year's resolution list as well.
Watch Others Play: While you might be a very good rummy player but watching other players display their rummy skills never harmed anyone. In fact, when a player does that, they learn certain skills and moves from others which they might not have used in their games earlier. So as a part of your rummy resolution number 4 you should watch how other rummy players play and even watch tutorial videos of good rummy matches on YouTube. It will definitely help you in your rummy game and make you a better player.
Responsible Gaming: While we've mentioned this as a resolution which is fifth in the list but can't stress enough on it. Octro PlayRummy as a platform always wants players to play the game responsibly. Hence, we abide by all the TORF (The Online Rummy Federation) rules and even fixed an upper deposit limit as well. You as a player should make this as your new year resolution to never over indulge in the game and play it responsibly. Also, it is your responsibility to never play in order to chase losses because that makes you even more prone to lose money in the game.
Conclusion: We, as one of the most trusted online rummy platforms can assure you that rummy players who will stick to these resolutions in 2022 are likely to get much better results. While you might do well even without making these resolutions, a little bit of discipline always helps in the long run. So, try inculcating these steps for better results in 2022.