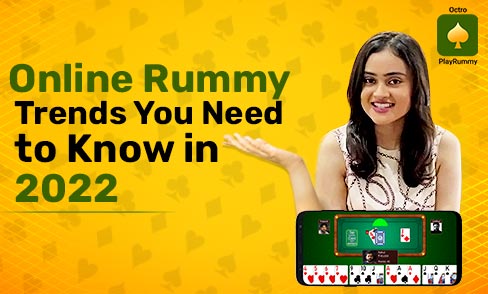 Just around two decades ago, rummy was just another form of card game which people played with friends and loved ones to have a good time. The scene however, changed in the mid-2000s when the rummy game was reintroduced online. Over the years it has become the preferred playing option for millions of rummy players who now play online rummy on their smartphones.
While the game is similar to the traditional rummy game in a lot of ways but with technology it has become even better and more rewarding for the rummy enthusiasts. Today, there are a lot of Indian rummy apps where you can play the game and after studying those carefully, below are some of the current rummy trends that you need to know for the year 2022.
On-the-go Gaming Facility:
This is the trend why people prefer playing online rummy and it will continue to grow even more in the next few years. Your smartphone is designed to provide an on-the-go gaming experience through the rummy app. All a player needs to do is to download rummy app for free on the phone and enroll on the platform to start playing rummy anytime anywhere. Once the download is complete the player can go through the rummy rules of that particular platform and begin playing. It's this simple.
Tournaments & Leaderboards:
Another prominent trend in online rummy is tournaments and leaderboards. Tournaments also popularly called as tourneys on various rummy apps can go on for several rounds and hours. The prize money in these tourneys is huge and something a lot of players keep an eye out for.
The most trusted rummy apps Octro Playrummy also has a lot of tourneys these include daily tourneys as well as event specific tourneys where lakhs of rupees can be won by showing your rummy skills. Of these some tournaments require the player to pay a small entry fee while there are other tournaments where there is no entry fee at all.
Like tourneys, even leaderboards are another trending aspect of online rummy which if you play the game off-line you can can't experience. These leaderboards give online rummy players a chance to make a comeback even when they had a few bad games. In leaderboards the final score of the players decides the winner rather than just one good game. So, if things haven't gone the way a player would have liked them to go there is always a second chance to make it better. The cash rewards are great here as well.
Great Bonuses & Offers:
When you play rummy online you are likely to get incredible offers and promotions on a regular basis. Availing these you get a lot of cash back or get benefit in other forms. For instance, Octro PlayRummy gives a welcome bonus to newcomers, which is an incentive worth enjoying. There are many offers for old players on the platform as well. This is an incentive that the online rummy game makers provide to the players to retain them.
Tests Life Skills: Playing online rummy not only tests your rummy skills but even your life skills. It's a game which requires the player to have a sound & logical mind, it will test your patience, analytical thinking and decision making. While these will be tested in the context of the rummy game, it will give you a fair idea as to where you stand in respect of these life skills over all. It will also test you on how competitive you are and whether or not you have the perseverance to come out of a bad patch.
Responsible Gameplay:
Not a lot is spoken of this rummy trend but it's one of greatest aspects of online rummy. Let us explain with a comparative example: If you are a person who plays rummy offline then you must have experienced it yourself or would have come across players who go overboard when it comes to putting money in a game. This is usually done because of greed to win more or in order to recover a loss that the person might have suffered in a game before. This might result in the player losing the money that they would have put in the game and it falls in the category of addiction.
However, when it comes to online rummy played on this rummy app it is all about responsible gaming. Octro PlayRummy adheres to the TORF (The Online Rummy Federation) rules and hence there is a daily deposit limit that has been fixed so that no player is able to deposit more money than the specified limit and this saves them from spending more than they can afford.
This is the reason why players would have always heard or read a disclaimer put on online rummy advertisements which says, "This game involves an element of financial risk and may be addictive. Please play responsibly and at your own risk." This is a disclaimer that has been put following the directions from Advertising Standards Council of India (ASCI) and encourages responsible gameplay.