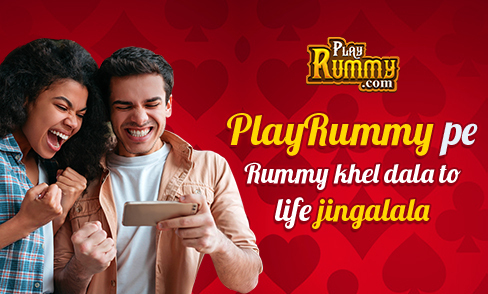 The title of this article seems to be from a tag line of a DTH provider's advertisement. This line however, holds true for a PlayRummy user as well because your life will rock if you play online rummy on PlayRummy.
Entertainment Guaranteed: After you download the app you are guaranteed entertainment. Our app is simple to use with lots of rummy tables which you can choose according to your playing abilities. So if you are bored just download the app and start playing rummy for a great entertaining ride.
Stress Buster: Playing online rummy on the PlayRummy app is a real stress buster because of how the game takes away your mind from the daily hustle and bustle of your lives.
Improves Memory: The manner in which the online rummy game on the PlayRummy app is designed makes you remember all your and opponents moves. This also ensures your brain is always alert which boosts memory.
Responsible Gaming: One can only play online rummy on the PlayRummy app if they have attained the legal age of 18 years. If that's not the case the platform will restrict players below that age there by promoting responsible gaming.
Great Tutorials: On the app there are video tutorials and on the website players can find a complete list of rules and Frequently Asked Questions (FAQ) section. By going through the tutorials players can learn what to expect when the game begins and by going through the rules and FAQ it gives them an idea about how the game is played and what they need to do in case they face any issues midway in the game.
Fraud Detection: PlayRummy has a special team which is regularly monitoring all the activities on their platform. This prevents any kind of fraudulent activities that might take place during the game. This measure makes the platform a safe and secure one to play online rummy on our app. This also ensures that the honest players don't face any issues during their time on the platform.
Player Protection System: On this platform a robust player protection system is in place to ensure that their points are not altered if by any chance they face a power disconnection during the game.
Secure Payment System: On this platform there are multiple payment options to felicitate the users. There are options for internet banking as well as online wallets. The platform ensures that no user details are shared by any third party services. If the players still face any issues PlayRummy has great customer support whereby players can resolve their on call, chat or emails.
These points prove that PlayRummy pe Rummy Khel Dala to Life Jingalala.