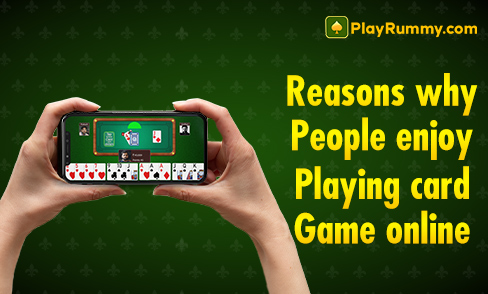 Card games have always had a special place in Indian culture. Whether you are just beginning your journey or are living your twilight years, chances are you have a favourite card game. And with smartphones and internet reaching people in the furthest corners of the country, and the evolution of online games, playing your favourite card game with people all over the globe has become easier than ever. The popularity of card games has multiple reasons. Here are a few reasons why people fall in love with them:
The Convenience
The best part about online games is that you do not have to make special time for it. You can play them whenever and wherever you find the time. The games are available 24/7 and since people from all over the globe play them, you can always find players online for a game. You don't have to make a plan to meet up with people for a game. You can be travelling, taking a break at work, or just waiting in a waiting room, just get a decent internet connection and you are good to go! This freedom of playing on your own time and comfort is what attracts so many people to enjoy their favourite card game online.
Guaranteed Safety
There are a wide variety of card game platforms that offer all sorts of card game online. Indian Rummy, poker, teen patti, blackjack, whatever your proclivity, there will be a platform for you. Some games like rummy online and poker can be played with real cash, too. And whenever real cash is involved, it is imperative that you play on a platform that safeguards your hard-earned money against the evils of cybercrimes. PlayRummy.com offers one of the safest platforms out there for you to enjoy rummy without worrying about the safety of your money. PlayRummy also has RNG certification that guarantees every game is fair to all players. Under the Indian laws of gaming and taxation rules, you will not find a better platform for Indian rummy than PlayRummy.
The Variety Available
The variety is never-ending on the internet! Not only do you get options of playing different card game online, you also have a variety of platforms for the same game which provide different gameplays. You can choose which suits you the best. There are also different game modes of the same game to keep things interesting for you. With just a few clicks, you can experience different modes and games to your liking!
Bonuses and Rewards
Another way online platforms entice new players is offering them rewards and bonuses. PlayRummy, a rummy online platform, for example, gives you instant cash to play with as soon as you register yourself. You also get extra cash in your account when you make your first deposit. There are plenty of daily and weekly challenges that you can complete to get more rewards. You won't get extra gifts like these on offline games!
Skill Development
Most popular card games are skill based, rather than luck based. Games like Indian rummy, teen patti, and poker help you improve your memory, analytical skills, and mental development. Anticipating your opponent's moves is also part of most games. These games help develop skills that will help you in all walks of life.
A Break from Your Routine
Playing card games in a casino or a private game is an ordeal. You have to spare hours of effort for a single game. Online card games are quick to join and only require a few minutes of your day to be part of. You can be taking a break from your work, or have a few minutes of time before you begin a chore, and you can enjoy your favourite card game. Also, physical card games are exhausting, as you have to deal with the hustle and bustle of the establishment where you choose to play the game. You also don't get distracted by the dealers, bartenders, and other players. Online games can be both a mental exercise, and a relaxing break from a busy day.
Entertainment!
All work and no play makes Jack a dull boy! We all need some quality entertainment in our lives to keep our mind fresh for the serious tasks of our daily lives. The ease of playing a card game online like rummy online whenever you feel like taking a break is a huge plus for online card games. The gameplay and graphics are made to make your experience fun and light.
As you can see, online card games have a plethora of benefits that fit in perfectly with today's fast paced life. The power of joining a game whenever you find time is a luxury that everyone wants. No matter your favourite card game, you can find a version of it that suits your needs.