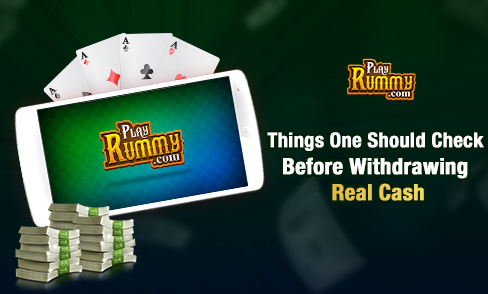 Anyone who plays any real cash game, apart from enjoying the thrills of the game they do so to win cash so that they can use it when they want. This applies to online rummy game players as well. Withdrawing your hard won money leads to a lot of satisfaction because that is one of the primary reasons why one plays the rummy game. Withdrawing your money from your rummy account can be tricky if one doesn't know about the correct procedure and how to go about it. Hence, let us take you through some of the most important steps that a rummy player should check before he withdraws his cash.
As far as the PlayRummy platform is concerned withdrawing cash is a really simple and hassle free process. For starters all you need to do is go through all the rummy FAQs thoroughly so that the process is a smooth one.
Know the Rules: Read the rules with regards to withdrawing your cash carefully because these rules vary from platform to platform. Majorly, though, the procedure is similar with some minute differences in various platforms which a player needs to know before applying for withdrawal. Most of the rummy platforms online have a separate section dedicated to the rules of every variation of the game that they offer including those about withdrawals. This section needs to be thoroughly studied with regards to withdrawals.
Ensure Mobile Verification: A player who wants to withdraw should make sure that they apply for the same from their verified mobile number that he/she gave at the time of registering with the platform. The procedure will only move ahead after that is done correctly.
Ensure KYC Verification: This is a must do in any real cash and even online rummy games. Compliance with KYC norms is easy and it is a one-time procedure. The objective of getting your KYC done is to prevent any misuse of your identity and funds by anyone. It also helps the gaming platform to understand a player and serve them better. Non-Compliance to these norms will lead to restriction of account privileges. The verification can be completed by login into your rummy account. After you click on your profile then you have to go into the Menu where you will find ID KYC documentation and directed towards the KYC verification page. On that page enter your Permanent Account Number (PAN) details and upload a soft copy of your PAN card and save it. Select your KYC ID type from the list of documents, click on "Upload" to upload these. Enter your "KYC ID number" then click on "Save KYC ID" to upload your selected document.
Correct Bank Details: Since the amount that a player applies to withdraw is directly transferred into their bank account it is necessary that the bank details of the with-drawer are correct. As far as the Mostly platform is concerned it follows only authentic and verified online transactions. Hence it is essential to provide your correct bank details so that the withdrawal process is completed seamlessly. We never asks to save any details other than a player's bank account number, uploaded KYC documents, email ID and phone number. Neither is a player ever asked their OTP, CVV and any other authentication details. The details shared by the players are secure and encrypted.
Follow Login Procedure: After a player has completed the above process and is absolutely sure that they details provided are correct they can log into their account. Next they have to go to the "My Accounts" link. Click on "Menu" and then click on "Withdraw Funds". After their details are verified they will directly be able to see their withdraw-able amount. Just enter your desired amount from the withdraw able balance and click on "Withdraw Now" to complete the transaction. The withdrawal amount will be debited from a players' playable balance instantly. In PlayRummy the minimum withdrawable amount is Rs 200 and one can withdraw any amount over and above that.  Our support team also ensures to resolve any issue that arises. In case a player's mobile number is registered with the platform, an SMS or even call will also be placed to alert them about the progress.
Now that you know that playing rummy online and withdrawing your winnings is an easy process, what are you waiting for? Just pick up your smartphone, download the PlayRummy app and play your favorite game anytime, anywhere.