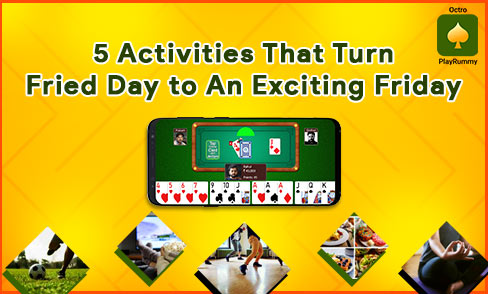 Yes! You have made it to another Friday and you are tired. The work stress has sucked the energy out of you, the travel too has taken its toll, and your personal life has been ignored. While in reality it's Friday but for most of us it feels like a fried day. You want some change; you are craving for fun but are not sure how to get it. In this blog we are going to tell you top five free time activities that will change the fried day feel to Friday feels. So, turn your fried day into a happy Friday.
Play Rummy Online: If you want to instantly relieve your stress for the week then all you gotta do is take out your phone, download rummy app, go through its rules carefully and begin playing the game. Playing an Indian rummy game on the app is like playing the same game that you used to play when you were a kid. The game will transport you back to your childhood when playing rummy was so much fun with your family and friends. The classic rummy game will refresh your mood within minutes and you wouldn't even remember the work stress you faced during the whole week.
Order Your Favourite Food: We Indians love food and the good thing is that we have lots of options to order from. So, since it's a Friday, take a break from cooking dinner at home and order your favourite food from outside and indulge. Good food does help one change the mood as it provides comfort for the soul, and brings happiness to the mind. So, this Friday pick go for it and till the time your order is delivered play online rummy.
Play Some Sport: Friday evening is a perfect time to play sports like football, kabaddi, badminton or basketball. Engaging in any sporting activity even for a little while let's to divert your attention from a hectic day. It will keep you refreshed and get your competitive juices flowing. And yes, when you get tired playing, take out your phone and play a hand on your classic rummy game.
Put On Your Dancing Shoes: This is another great activity to engage yourself on a Friday evening. Put on your favourite songs and dance away your worries. If you have family members around, tell them to also join for a fun evening and if you live alone, you can literally dance like no one's watching. Dancing is bound to make you happy. Also, if you feel tired don't forget to play an online game of rummy on your favourite app in the middle of it. You might never know you will literally dance your way to huge cash rewards.
Meditate: If you don't want to engage in any physical activity and still relax, just dim the lights of your room, put a couple of scented candles and put calming music. The next step is to sit with your eyes closed and just feel that you are in the best phase of your life. Even if you do this for 15-20 minutes you will feel very relaxed after a hectic week at work.
Watch A Movie or Web Series: These days since movie theatres are really a safe place to visit still because of the pandemic a lot of us have subscriptions for various OTT platforms. If you too are way too lazy to do any of the above activities then just lie on your couch and put on your favourite movie or series and just binge watch it. By the time it's over you would have experienced a perfect Friday evening.