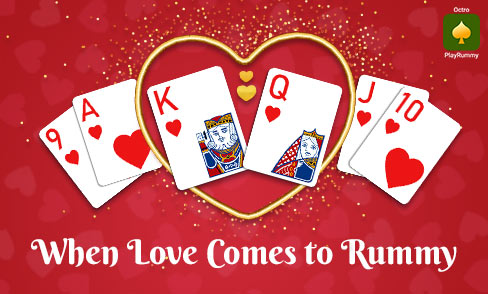 February is titled as the month of romance where everyone can use this time to express their feelings about something they love. It's no different for online rummy game players as well. What a lot of people might be thinking is what makes a passionate rummy player make full use of this lovely month? It's a time when online rummy players can win lots of cash by playing the game they are so fond of. If you are also one of these people who is wondering how rummy, which is considered a game of skill, can be combined with what your heart feels romantically then you need to read this blog till the end. In this month full of romance, love and gaming can come together. All that matters is your approach towards making the perfect move which will make the difference.
These pairs are universally known and if you apply the correct strategy then you can resolve a tricky situation. So, here is how you can use your rummy skills to bring the couple strategy in place.
Whose Proposal To Accept?

Suppose you possess a King card then proposal's don't necessarily only come from only cards of just one suit. What's important is that you make the right choice, or you will have to struggle throughout the game. For instance, if there are two queen cards one is of hearts and other is diamonds, whom would you go for?
Can A King Find His Ideal Match?
In our lives the popular belief is that matches are made in heaven however it's not the case when it comes to playing the Indian rummy game. While King & Queen are high value cards, both these cards don't always come together to give the player a winning hand. What's your take if you have a King of hearts card and you see a Queen of hearts card, would you pick it or let it pass? In real life as well, we sometimes face similar situations and it is only with an analytical approach and logical thinking can we make the correct decision.
Love Counts But Not Always
Rummy is like life. Suppose you have an Ace and King of hearts and you can pick a Queen of hearts. Will you go for it or not. Like in real life people sometimes reject love because their priority might be something else. It's the same in rummy while ideally you should go for the Queen of hearts card  but every rummy hand can be played in multiple ways. It is up to the rummy players, how they arrange their cards and make the perfect move with help of basic rummy rules.
Should A Joker Get A Royal Treatment?
Jokers are very important cards in rummy. In rummy online the use of Joker in rummy game after they have made a pure sequence. With a combination of  a wild card and a Joker, it is considered a great move that can make you win a rummy game. In real life as well, Jokers denote fun and humor. Whenever we face a tough situation in our personal lives some fun and humor always helps to come out of it. So, both in rummy and real life Jokers do deserve a royal treatment.
To Marry For Love Or Not?
Every year we see a lot of  love marriages. Each of these marriages show a focused approach. Acting at the right time with the correct rummy strategy turns these marriages into a happy and winning scenario. In rummy suppose you have Jack and King of hearts will you go pick the Queen of hearts card or not? We are asking this question because like in life in rummy as well all big cards together can make the situation tricky sometimes.
What Indian Rummy Teaches Us
Indian rummy games can teach us much more than we realize. The game tells us that apart from always picking the right card and making a valid declaration, it is also important how we deal with different situations of life. So, if you are in a phase of life where things aren't ideal as far as your personal relationships are concerned, playing a rummy game with an intention to understand what it means can provide you some answers.
So, don't ever be afraid to face life's challenges with confidence and let rummy help you come out of difficult situations. It is with the right strategy, moves and patience that we can all conquer the game of life.  As far as playing just rummy is play it free of cost on the most trusted rummy app.