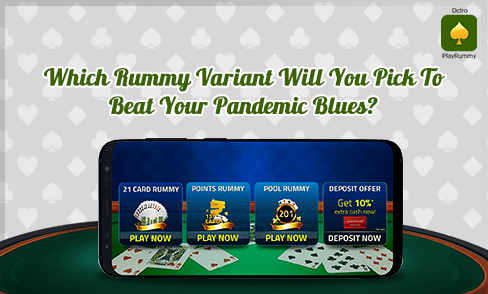 These are tough times for the entire world with almost every country fighting and taking measures to save themselves from the COVID-19 outbreak. It's been more than a year since most of us have been affected by the ongoing pandemic either directly or indirectly. People around the world resorted to different measures to keep themselves busy and carry on their routine work by taking all the necessary precautions.
Online was the only option to complete most of the work and it was now that the internet and technology came to our rescue in a big way. The same came in handy when it came to entertaining us. As a result, online gaming platforms like those for online rummy have seen a spike in their engagement level.
If you are a passionate rummy player or even if you want to learn how to play rummy you can easily do that on the most trusted rummy app and by playing the game you can beat your pandemic blues.
The PlayRummy app also gives you variants of the game which you can pick according to your preference. Below are some variants which you can try on the app.
13 Card Rummy Games:
This is basic mode where each player is dealt 13 cards face down. The next card from the deck is placed face up on the table; this starts the discarded pile or open deck. Rest of the cards are placed face down in the centre of the table; this is the stock pile also known as the closed deck. Then a card is picked from the stockpile and placed face up under the stock pile so that it's visible. All the cards of that rank regardless of the suit can be used as an additional joker or wild card. The objective of the game is to form runs or sequences and sets. When a player has formed the required runs and sets using all the 13 cards, they can declare their turn. A valid declaration must have a minimum two runs and out of this one run must be pure. The second run can be pure or non-pure. Either pure or non-pure must have four or more cards.
The 13 Card Rummy has two sub-variants; namely Points Rummy, and Pool Rummy
(a) Points Rummy: This is also called 80 Points Rummy; it is the simplest format of 13 Card Rummy. It takes just a couple of minutes to get a result in the game. This variant is recommended for newbies or people who are running short of time. One of most loved online rummy variants here rummy lovers just get done with a game in a jiffy. There are tables with different point values, usually ranging from 10 paisa per point to Rs 100 per point. Once a player declares in this game, the winnings of the player are calculated based on the points that the losing players have accumulated.
(b) Pool Rummy: The gameplay of this variant is almost like Points Rummy. However, the elimination factors make this variant of online rummy much more competitive compared to the other[ variants. This also takes longer to end because of the elimination element. A player will be eliminated when their points reach the maximum limit defined on the particular type of table. While there is an option to drop in the variant on the 201 Pool a player will have to pay 10 points on first drop and 30 points on middle drop.
21 Card Rummy:
The game in this variant lasts a little longer than the points rummy. It is in a lot ways like 13 Card Rummy but with few different features. This one has three decks of cards along with printed jokers. Here every layer is dealt 21 cards and it is compulsory for them to form at least three pure runs and meld the remaining cards into proper sets or sequences.
The manner in which this variant is different is that besides jokers, it uses 'Value Cards'. Their use is similar to that of jokers as they can also substitute any card. They are special in the sense that they hold additional points. Another distinction is that First Drop involves a punishment of 30 points and points of value cards are not honoured. A middle drop involves a punishment of 75 points, yet points of value of cards are respected. Likewise, 3 cards of a similar suit and same rank is viewed as a pure run.
The Marriage Hand: Under the 21 Card Rummy comes this where a mix of cards that has 7, 8, 9 of spades is known as the Marriage Hand. The players who have this exceptional hand get 100 points from their adversaries. The round of 21 Card Rummy requires substantially more concentration and skill in comparison to the 13 Card Rummy.