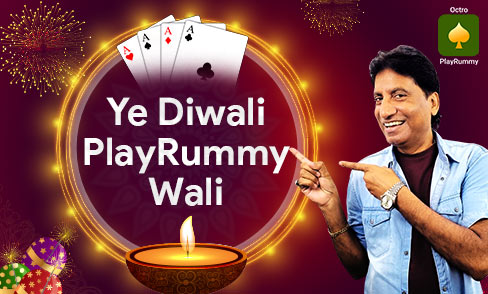 How many of you know that Diwali and playing traditional rummy is something that has been done for many years now in Indian households. There is a really popular tale in the Indian mythology about it which explains why Indian rummy is a really popular card game and the relevance of playing it during the festival of lights.
In many Indian families which celebrate the festival on the third day of Diwali, they clean their house to welcome Goddess Lakshmi. Goddess Laxmi is the Goddess of wealth & prosperity. The platform where the Laxmi is placed is adorned with the kalash, sweets, a coconut, and the books that are maintained in a business. She is prayed to in the evening and as the night approaches, people celebrate Diwali by playing card games. This is an all-night affair where friends and family members have a good time with lots of fun. Most people while celebrating the festival play card games and the most popular among those being Indian rummy.
Playing card games like rummy is considered an auspicious affair on this auspicious day. But how did the game become a part of this festival in India?
How & when did rummy begin?
It is said that Goddess Parvati who is Lord Shiva's wife was playing a game of dice with him once. Sometimes she would win and at other occasions she would lose. This win and loss indicated towards creation and destruction which is a part of the cosmic cycle. This also shows fragmentation and reunification. It's believed that on that night Parvati said that whoever would play games like rummy they will prosper throughout the year. According to a story in Indian mythology, playing this dice game became a family affair when Parvati's sons, Ganesh and Kartikeya also began playing it.
Many believed that this actually happened and hence at the Kailash Temple that's there in the Ellora Caves in Aurangabad this has been portrayed through sculptures. It's a World Heritage Site, where Ardhanarishwara is shown as one entity with female and male principles. Whenever Parvati wants to play the dice game, the entities separate and turn into two; the second entity being Lord Shiva. This loss or win in this game symbolises intense reunion and emotional separation.
Another reason behind many Indians playing this classic Rummy game on Diwali night is to understand the principle that there should be a balance when it comes to chasing materialistic pleasures.
Why have we chosen this topic and called it -Ye Diwali PlayRummy Wali?
The reason behind it is simple, Diwali is round the corner and rummy is played during the festival especially, on the day we perform Lakshmi Puja. This is the day when the Goddess of Wealth blesses us for performing these prayers. These blessings lead to goodwill and wealth. Playing rummy is just a way to have a good time with friends and family. Since, these are tough times with Covid-19 pandemic still not over, it's still recommended the all of us follow the norm of social distancing we at Octro recommend to try the best rummy app and play rummy online so that you don't miss the 'R' factor this festive season. Below are some of the reasons why you should try playing rummy on the PlayRummy app.
1) Easy Rules: Online Rummy rules on the app are very similar to offline rummy rules and are easy to understand. All you gotta do is download the app, choose a table you want to play on, then form the right sequences and sets and declare.
2) Play Anytime, Anywhere: On this app you don't have to wait for your friends and relatives to turn up. At any point of time there are enough players playing the game. You can choose any table and play rummy at the time that suits you.
3) Great Rewards: The rewards on this app which is based on traditional rummy principles are great. A lot of players win lakhs of cash rewards and transfer your winnings directly in your bank account easily and quickly.
4) Fair Play: The app assures complete fair play while playing the game and it is equipped with latest fair play plugins to enable you to have a good time without the fear of being cheated by opponents.
5) Prompt Customer Support: This online rummy platform has an effective customer support system which can be reached through call or email. This isn't all, the team also keeps on checking with the users themselves, in case they are facing any issues regarding the game. This prompt service has made them the best rummy app.
What PlayRummy has to offer this Diwali?
Apart from the regular contests there is a Playrummy Diwali Dhamaka contest on the app where players can get huge cash rewards from a prize pool upto Rs 5 lakhs. These are enough reasons to prove that it's the best rummy app with the biggest rewards, especially during Diwali. So, what are you waiting for? Let's make this Diwali, PlayRummy wali.