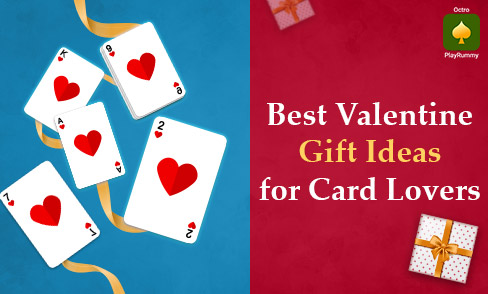 With February 14th round the corner people are confused about what to give their loved ones. There are a lot of things that you might give them to make their day but since that list will be a never-ending one. However, if the person whom you want to give a Valentine's day present to is a card game lover we will suggest some great options that they will love on receiving it.
List of the Best Card Game Apps: This one would require you to do a little bit of research and hard work but no one ever said that love was easy. If the person you love is a card game enthusiast then what you can do is look on the internet and prepare a list of some great online card games. It will take some time to prepare because there are a lot of online card gaming apps, so start today. However, if among those card games the person you want to give is a rummy player then our suggestion is to mention the name of Octro PlayRummy in that list. It is a free rummy app which is loved by rummy players around the world. It is available for both Android and iOS users. You can download the app on their device and they can play rummy free on it. Till date it remains the most trusted rummy app when it comes to playing rummy online.
Making a Deposit: After you have recommended your loved one some good online rummy apps and if they choose PlayRummy from it, what you can give them as a second gift this Valentine's day is making a deposit on the app on their behalf. When they download this free rummy app, they will get a welcome bonus from us. All you have to do next is make a deposit on the app so that they can play rummy without spending anything. Your loved one is bound to appreciate this gesture from you and will make your bond stronger. What would be even better is that they win big rewards on this app and you both spend that sum to have a nice Valentine's day party.
Books On Card Games: Strategies play a huge role in card games and all card game enthusiasts like learning new strategies to make their game better. What you can do is select some great books on card games strategies and give it to them. They will love the effort you make in doing so and they will always cherish this gift especially when they win big rewards by applying the strategies they learn by reading these books.
Premium Card Pack: While playing online rummy on the app is great but a card game lover will always love a premium card pack which were used a lot about two decades ago when online rummy wasn't an option. Today you will find a lot of premium packs of playing cards which you can order online for the person you want to give it to. It will be a great collector's item which they can keep and maybe sometimes even play a game. All card game connoisseurs know what possessing a premium playing card set is. So, go ahead and buy one for your loved one.
A Rummy Date Night: Just imagine, it's the February 14th evening, you have made their favorite food, opened their favorite drink, lighted their favorite scented candles. It's likely that by doing this you've cracked the code of a great evening with the love of your life. What will make it even better is when you give them any of the above three gifts or maybe all three. Try it, we are sure it will work and both of you will have an evening to remember for the rest of your lives.
A Message Or Call from Their Favorite Celeb Player: While it isn't likely to turn out as you want but there is no harm in trying. For instance, if the love of your life likes poker or rummy, what you can do is follow some of the big online rummy or poker players on their respective social media handles and request them to send a personalized message for your loved one on Valentine's day. If it works, it will surely put a smile on the face of your loved one. These days a lot of online card game brands have tied up with celebrities as well, so you can request those celebrities on social media for that personalized message as well and you might never know they might just honor that request and make your loved one's day.
This Valentine's day do try some or all of these gifting ideas to surprise your special someone if he/she is a card game lover.