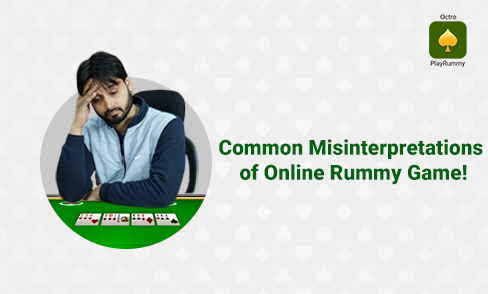 You tell us about anything popular and we will tell you how it is being misinterpreted in the world outside. Usually when anything becomes popular there is an automatic tendency of it being misinterpreted. That's the same approach people adopt when they talk about online rummy games. The online rummy game which is the most loved card game continues to grow in popularity and with the trend of it being misinterpreted So, if you want to download rummy apps on your smartphones then you need to know how the game is misinterpreted. Here are some of the most common misinterpretation of the online rummy game and its strategies
Drop If You Have Below Average Cards: In the online rummy world you would commonly hear this that if you have got irredeemable cards then your first priority should be to drop the game as soon as possible. This according to many needs to be done so that a player can avoid losing more points. This, however, isn't the correct interpretation of the game. The flip side of this move the player might be afraid of losing a few points and quit the game when what they could have ideally done is revived their chances especially in the 13-card online rummy game. It's not a popular choice but the real good online rummy players usually play a round or two even with below average cards before deciding to drop. This is the correct approach.
More Jokers Isn't A Guarantee to Win: Have you heard that saying about too many cooks spoil the broth, in the online rummy game it can be slightly changed by saying too many jokers can spoil your chances. Being over obsessed with joker cards isn't the correct approach for a rummy player. The first priority should always be to build the pure sequence. Yes, the joker cards do make it easy for you to cross the finish line but it is a misconception that their absence means that you will finish a loser.
Discard High Value Cards but Asses First: While there are many articles, blogs and expert opinions on videos on online rummy saying that one should get rid of the high-value cards as soon as possible. This might be work in situations but good rummy players always observe the game and assess the situation first before discarding these cards. If you can, then wait for a round or two before taking the step. Remember, haste can let your chances go to waste.
Your Sets & Sequences Can't Have More Than Four Cards: Your melds can have more than four cards, but it would be smart to make use of them separately. However, the online rummy rule book doesn't say that you cannot use more than four cards to build a meld. Also, not many know but a sequence can have a maximum 13 cards because each suit has that many cards.
It's Not About Luck: Another most common misinterpretation about the online rummy game, especially for those who haven't played it at all is that it is completely based on luck. Let's clarify this by stating rummy is a game of skill. In reality the more one plays the more they learn various strategies about it. Players can only consistently do well if they improve their skills by regular practice. A platform like PlayRummy operates on a random card generator system and this gives an equal opportunity to win for everyone.
Players Aren't Bots: Online rummy player not being real ones is also a misinterpretation. Many still believe that they aren't any real but only bots and hence real humans don't stand a chance to win. That's false. There are millions of registered players in an online rummy platform like PlayRummy which is accredited by the TRF. There aren't any bots unless you are playing offline. Online rummy games allow only human players to play with each other.
Money Is Not Always Lost: There is a misconception that people who play online rummy games always lose money. Since, online rummy games are always played between real players some win and some lose. There's no partiality on platforms like ours.
The Game Is Legal: Many people in the country think that playing online rummy, especially where real cash is involved, is illegal but that's not true. The Supreme Court of India has declared in its ruling that playing cash rummy online is legal and it's not gambling as rummy is mainly a game of skill, not a game of luck. This declaration is to assure everyone that online rummy games are absolutely legal. Games where real cash is involved and are completely based on luck are banned in almost all Indian states.